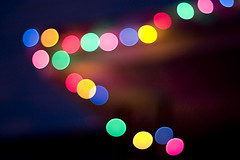 Loading the family into the car, perhaps armed with steaming travel mugs filled with hot cocoa, and looking at Christmas lights and other holiday decorations is a cherished part of many families' holiday traditions.  Whether you are looking to see what your neighbors have come up with (The Sacramento Bee lists some of the best home displays in the capitol region) or you prefer to tour some of our region's grand estates (see The Press Democrat's article for ideas), there are many options in the Northern California region.  Still, the best decorations are quite often those you hang yourself and our San Francisco home injury lawyer wants to remind you of the importance of holiday decoration safety to ensure your holiday display is not only beautiful but also safe.
A Holiday Decoration Safety Tips pamphlet authored by the Consumer Product Safety Commission contains many tips for keeping your holiday decorations safe.  These tips include:
Tree Safety

If you opt for an artificial tree, pick one that is fire resistant.
If you choose a live tree, think green. A fresh tree is less of a fire danger than a dry tree.  Indications of a freshness include: Green needles that are hard to pull off the branches; Needles that don't break when bent between your fingers; and A trunk bottom sticky with resin. One more tip: If bouncing the trunk on the ground leads to a shower of falling needles, the tree is too dry and unsafe.
For live trees, trim the base to improve water absorption. Set it in a sturdy base kept filled with water at all times.
Keep all types of trees away from radiators, fireplaces, and other heat sources. Do not place trees where people are likely to bump into them.  For large trees, consider using nearly invisible guy-wires to secure the tree to the ceiling/walls.

Lights

Purchase lights that carry a label indicating they have been safety-tested by an independent organization.
Check each string, old or new, for frayed/bare wires and damaged sockets. If you spot anything questionable, discard the strand or repair it before use.  The cost of a new strand is much less than the cost of a fire!
Fasten lights securely and protect outdoor strands from wind gusts or other weather damage.
Plug no more than three strands of lights into each extension cord.
Do not use any electric lights on a metallic tree due to the danger of electrocution.
If you use "bubbling" lights, keep them out of children's reach.
Turn off all lights and other powered decorations before going to sleep or leaving your home.

Fires & Candles

If you light a fire, remove all greens, paper, and other décor from the area.
Ensure the flue is open and use a fire screen at all times the fire is lit.
"Fire salts" can create colorful displays, but they are dangerous if ingested so keep away from children and pets.
Do not use lighted candles near evergreens, wrapping paper, or other decorations. Use non-flammable candle holders and place candles where they won't be blown or accidentally knocked over.
Do not burn greens (sparks can fly out and burn someone or start a fire) or paper products.
Avoid wearing loose clothing (ex. flowy sleeves) near any form of flames.

Other Décor

Choose only non-combustible, fire-resistant decorations that do not contain lead.
Use artificial snow with care. Follow all label directions and take care not to inhale the spray.
If you use spun glass "angel hair," wear gloves when hanging it and avoid placing it where children can reach it due to risks of eye and/or skin irritation.

Special Protections for Small Children

If small children are expected, take special care. In addition to other precautions, choose decorations that are not sharp/breakable.
Keep items with small parts out of reach of young children.
Do not use decorations that resemble candy or other food.
Ensure matches, candles, and lighters are kept out of children's reach.
We could never list every possible holiday decoration safety threat, but use common sense and choose safety over style.  Stay safe and remember – Holiday lights are a welcome sight; a flashing ambulance siren is not.
As always, if tragedy does strike and you believe a faulty product or negligent individual was to blame, call our San Francisco holiday injury lawyer for a no-cost consultation.  We are here to help.
See Related Blog Posts:
California Child Injury Attorney Demands Toy Safety as the Holiday Rush Begins
(Image by Jeffrey Smith)