As your San Francisco/Oakland car accident law firm, we understand that automobile collisions can occur at any time of day, any day of the week.  Different times carry different dangers.  In the late night/early morning hours, there may be a higher risk of encountering drunk drivers or highly fatigued drivers and there is the challenge of driving without daylight.  Daytime drivers, however, may face more traffic and may encounter drivers who are multi-tasking as work, children, and other distractions pull attention away from the task of driving.  So, we wondered: Ultimately, what time of day sees the highest number of car accidents?  Which is more dangerous, daytime or nighttime driving?
NHTSA Statistics on Injury and Fatality Crashes by Time of Day
A report entitled Traffic Safety Facts 2009 presents a plethora of data gathered by the National Highway Traffic Safety Administration ("NHTSA") on accidents ranging from basic fender-benders to deadly multi-car pile-ups.  The report includes over 100 tables and charts, examining crash data from many different angles in order to uncover patterns and trends.  Table 25 focuses on time of day and reveals that the three hour timespan with the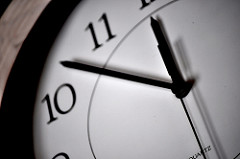 highest number of fatal crashes was 6 to 9 P.M. (4,988) followed very closely by 3 to 6 P.M. (4,994).  Looking at injury crashes, the highest number occurred between 3 and 6 P.M. (371,000), with the next highest number occurring from noon to 3 P.M. (290,000).
Interestingly, while daytime crashes were more common across the board, the highest number of fatal accidents on Saturday and Sunday occurred in the midnight to 3 A.M. period (1,024 on Saturday, 1,072 on Sunday).  These two periods ranked as the two most deadly three-hour spans  for the year 2009.  While there was a shift in the period with the most fatalities on the weekend days, the weekend injury crash numbers followed the overall injury crash trend with the 3 to 6 P.M. span seeing the most injury crashes (47,000 on Saturday, 35,000 on Sunday).
Drawing Conclusions, Representing Victims
While the NHTSA report does not draw conclusions, the weekend shift suggests that deadly crashes may be more influenced by behavior than by the presence of daylight.  Our own experience suggests that there may be more people drinking and driving on during the weekend late night spans than the corresponding weeknight times.  Injury crashes remained most common in the afternoon and early evening hours, periods that personal experience suggests see the highest traffic levels.  Increased traffic may lead to more low-speed accidents, collisions that cause injuries but do not lead to fatalities.  It is important to note that these are raw numbers that do not take into account the number of people on the road at a given time.
Car crashes happen at all times of day, a fact demonstrated by a head-on crash just before 2 PM this past Sunday near Belmont (CBS SF), a time might mistakenly assume are safe.  Ultimately, accident statistics can suggest time periods that demand increased vigilance, but time of day doesn't absolve fault.  Whether the crash occurred late at night or during the afternoon rush, whether it was a weekend or a weekday, if someone else's negligence led to an accident that left you injured or claimed a loved one's life in the North California region, we can help.  Call to arrange a free consultation with our experienced San Francisco injury attorney.  We work with victims from all parts of Northern California including (but not limited to) San Francisco, Oakland, Berkeley, Sacramento, and Sonoma.
See Related Blog Posts:
Oakland Injury Lawyer on Compensation for Northern California Hit-and-Run Accident Victims
Northern California Injury Lawyers Examines Pedestrian Accidents in Oakland and Antioch
(Image by Jean-Pierre Bovin)