In the future, we may be able to rely solely on renewable energy resources, but for now oil and gas are essential to the operations of our country and our state.  These fuels are highly flammable and generally quite dangerous if not handled with the utmost of care.  Although it is too early to identify a cause in Sunday's refinery fire, many oil and gas accidents occur because an entity failed to respect these potentially hazardous substances.  When a fuel processing or distribution accident leaves injuries and/or fatalities in its wake, our Oakland refinery fire law firm helps victims uncover the cause of the tragedy and pursue money damages from those responsible.
Fire at Phillips 66 San Francisco Refinery in Rodeo
On Sunday, as reported by The Contra Costa Times, a small fire struck the Phillips 66 refinery on the 1300 block of San Pablo Avenue in Rodeo, about 20 miles south of Oakland.  The Phillips 66 San Francisco refinery was built in 1896.  It has an 80,000 barrel daily crude feed capacity and a daily clean fuels production limit around 4.3 million gallons.
Refinery staff and local firefighters responded when flames broke out around 3 PM.  A company spokesman said no injuries were reported and an investigation is underway to determine the cause.  It is, according to the newspaper, the first major incident since an overpressured water tank caused the release of chemical fumes in June 2012.  In response to Sunday's fire, Contra Costa County issued an alert advising people with respiratory sensitivities to stay indoors or avoid the area.  ABC News reported that the advisory was lifted after two hours.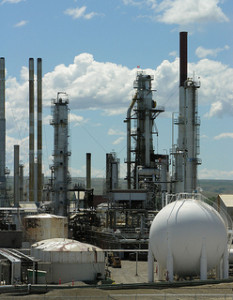 Refinery Fire Statistics
A 2002 National Fire Protection Association ("NFPA") report, "Petroleum Refineries and Natural Gas Plants" found that from 1994 through 1998 there were, on average, 228 fires at refineries and natural gas plants each year in the United States.  Although this is an older figure, some evidence suggests that refinery safety has not improved.  While observing the somber ten-year anniversary of the 2015 Texas City refinery explosion that killed 15 and injured approximately 180 workers, the Houston Chronicle found nearly the same number of workers died at U.S. refineries between March 2005 and March 2015 (at least 58) as did over the previous decade (64).  A piece of data that is at once broader and a narrower than the NFPA figures comes from the Insurance Information Institute which found there were 18 major oil/gas fires and explosions in 2014 that claimed 40 lives.
British Refinery Fire "Could Have Been Easily Prevented"
Last week, Britain's national regulator overseeing workplace health and safety (Health & Safety Executive or "HSE") issued a press release announcing a £ 1.4 million fine issued against an energy firm in connection with a 2010 refinery fire that killed a 24 year old worker.  Investigators concluded the fire was the result of an uncontrolled release of crude oil.  After the hearing, an investigator elaborated:
"If [the company] had followed well established principles of risk assessment this major fire and the subsequent fatal injury…could have been easily prevented.  Although the accident arose from a simple task, the magnitude of the risk was great. The risk should have been identified before the task started, and action taken to either eliminate or control it. This did not happen.  [The company] as operator in control of a major accident hazard establishment fell far short of the standard required of them.  This tragic incident should serve as a reminder to all such operators that if they fail to assess the risks associated with even simple and routine maintenance tasks, the consequences can be severe, and irreparable to the people involved and their families."
Accountability, Compensation, & Prevention
Oil and gas companies must be held to the highest of safety standards.  Uncovering the cause of a refinery fire, pipeline explosion, or other oil/gas accident is critical to preventing future tragedies.  Although both industry and government groups conduct their own investigations, civil litigation is an important tool for achieving the goal of prevention.  Of course, these lawsuits can also provide compensation to the injured and/or grieving.
If you or someone you love suffered an injury in an oil- or gas-related accident in Oakland, San Francisco, Sonoma, or the surrounding areas, our Northern California refinery accident lawyer can help.  We also assist clients with refinery accidents in Central California.  We can help you recover critically needed compensation and give added meaning to your loss by ensuring your tragedy is not forgotten and the lessons learned help prevent others from sharing your (or your loved one's) fate.
See Related Blog Posts:
Fresno Pipeline Explosion Calls Attention to an Ever-Present Threat
One Year Later: California Oil & Gas Attorney on the Response to the 2012 Chevron Refinery Fire
(Image by Greg Goebel)