A decade ago, if you asked most Americans to name the weather/climate condition most associated with California, we have little doubt "earthquake" would have been the dominant response.  Today, however, polling might be split.  Many would answer "drought" and a third common reply might be "wildfire."  The National Park Service defines wildfires as "an unplanned fire caused by lightning or other natural causes, by accidental (or arson-caused) human ignitions, or by an escaped prescribed fire."   While they are known for destroying land and property, wildfire injuries and deaths are a real danger.  When a California wildfire is started by a person, intentionally or due to negligence, our Sonoma fire injury attorney is prepared to advocate for the injured or surviving relatives of individuals who died because of a wildfire sparked by another individual.
Three Fires Burn in Sonoma, Two Tied to Suspected Human Causes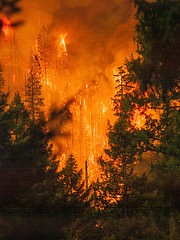 On Tuesday alone, Sonoma County and North Bay fire departments were battling three wildfires including one tied to a local beekeeper and one currently being linked to a vehicle fire.  The Press Democrat reports that a grass fire south of Sebastopol was accidentally sparked by a beekeeper employing a smoker pot to calm his hives.  Approximately two acres burned in the blaze and an old barn was destroyed.  Although high temperatures and windy conditions complicated all three fires, a large team including nine engine companies and 45 firefighters gained control of the Sebastopol blaze and limited the spread.
While an investigation is ongoing, officials suspect a fire near Wragg Canyon Road started when a woman pulled a burning vehicle to the side of Highway 128 in Napa County and flames spread to roadside brush.  Smoke impacted residents in Napa, Solano, and Sonoma counties and forced the evacuation of 200 Vacacille-area residents.  Although crews stopped the forward progress by 8 P.M. Tuesday, the blaze consumed 6,991 acres destroying at least two vehicles and two outbuildings and damaging four outbuildings, one residence, and a walnut orchard.
A ten-acre fire damaged three structures in Clearlake near the 16000 block of Dam Road.  California Department of Forestry and Fire Protection ("Cal Fire") spokewoman Suzie Blankenship commented "Everything is dry out there and all it takes is one spark."

Wildfire Statistics: Numbers and Causes
The number of wildfires in California is growing exponentially.  According to Cal Fire, the Department and its contracted affiliates responded to 3,897 wildfires between January 1 and July 25, 2015.  In 2014, the same period saw 2,757 fires, with both this year and last topping the five-year average of 2,552 fires during the timespan.
In a list of the 20 largest wildfires in California (by acreage burned) since 1937, six are attributed to a "human related" cause and one by "arson."  Additionally, three fires are blamed on "powerlines" and one is listed as "vehicle," all suggesting some form of human negligence.  Together, half of the 20 largest California wildfires have been attributed to a human (and two are undetermined).
Compensation for Wildfire Injuries and Wildfire Deaths
Although, thankfully, there do not appear to have been injuries associated with the Sonoma fires discussed above, the rising number of California wildfires is no doubt accompanied by an increased human toll.  Whether civilians or firefighters hurt in the line of duty, people injured in California wildfires that are intentionally set or caused by human negligence (ex. a tossed cigarette, a vehicle fire caused by a dangerous fuel tank, or negligently designed electrical equipment) deserve compensation.  If this is you, or if an immediate family member died in a human-caused wildfire, call our Sonoma wildfire injury law firm.  We can help you recover money damages for your medical bills, lost wages, and other economic costs as well as compensation for pain and suffering.  Our firm can also assist with California wildfire insurance claims.
See Related Blog Posts:
Oakland Apartment Fire Attorney on Civilian Deaths in Residential Fires
Cigarette Fires & Civil Liability
(Photo Credit: U.S. Dep't of Agriculture; California wildfire photo does not reflect listed fire)