A decade ago, if you asked most Americans to name the weather/climate condition most associated with California, we have little doubt "earthquake" would have been the dominant response.  Today, however, polling might be split.  Many would answer "drought" and a third common reply might be "wildfire."  The National Park Service defines wildfires as "an unplanned fire caused by lightning or other natural causes, by accidental (or arson-caused) human ignitions, or by an escaped prescribed fire."   While they are known for destroying land and property, wildfire injuries and deaths are a real danger.  When a California wildfire is started by a person, intentionally or due to negligence, our Sonoma fire injury attorney is prepared to advocate for the injured or surviving relatives of individuals who died because of a wildfire sparked by another individual.
Three Fires Burn in Sonoma, Two Tied to Suspected Human Causes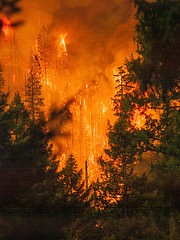 On Tuesday alone, Sonoma County and North Bay fire departments were battling three wildfires including one tied to a local beekeeper and one currently being linked to a vehicle fire.  The Press Democrat reports that a grass fire south of Sebastopol was accidentally sparked by a beekeeper employing a smoker pot to calm his hives.  Approximately two acres burned in the blaze and an old barn was destroyed.  Although high temperatures and windy conditions complicated all three fires, a large team including nine engine companies and 45 firefighters gained control of the Sebastopol blaze and limited the spread.