Wildfires have ravaged much of our region this year.  Our hearts go out to everyone who has been impacted by these terrible blazes and our thanks go out to the brave men and women who risk their own safety to battle the fires.  While wildfires have made headlines, other types of fires can also destroy property, cause serious injury, and even claim lives.  Apartment fires pose some unique issues and the actions (or inaction) of landlords and property owners can increase fire risk.  When a renter is injured or a life is lost due to an apartment fire caused by owner/landlord negligence, our Santa Rosa apartment fire lawyer is prepared to use the power of the law to fight for the injured renter or grieving family.
Fire Attacks Santa Rosa Apartment Complex

The Press Democrat reports that a destructive fire ra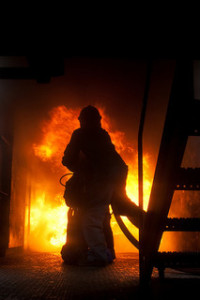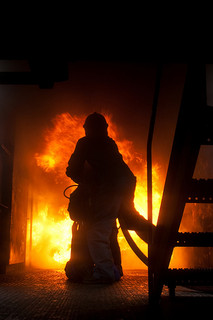 vaged a west Santa Rosa apartment building on Sunday.  At around 7:45 AM, the fire department began receiving reports of smoke at the 266-unit, two-story complex located near the intersection of Piner and Marlow Roads.  Firefighters initially found light smoke, but no visible flames.  The battalion chief told reporters that a fire was burning inside the walls and the attic space.  He warned that this type of fire is particularly dangerous because they often go undiscovered until smoke begins to billow out into the homes.
Fire officials say the early signs point to an electrical issue as the likely cause.  They are focusing on a corner area that contained utility connections for multiple units.  The investigation is ongoing and, while they believe the problem was electrical, fire officials are still examining the evidence.   Approximately 30 residents were displaced, 4 apartments destroyed, and 8 others damages for a total loss of around $950,000 from the three-alarm blaze.  One firefighter broke a bone while battling the fire and one wheelchair-bound resident was evaluated and released from the hospital.
Key Questions to Ask Following an Apartment Fire
We do not know what factors contributed to Sunday's apartment fire in Santa Rosa, but there are many questions that we ask whenever fire hits a residential rental property.  Some examples:
Were there working smoke alarms? Were there enough of them?
Were there usable fire escapes?
Were all common areas kept in a safe condition?
Did the building comply with all relevant fire codes?
Were all major appliances (e.g., furnace, water heater, and other equipment that comes with the unit) in good working order and were inspections up-to-date?
These questions help us determine who was responsible for the blaze and are part of the thorough investigation we conduct in apartment fire cases.
Negligence and Landlord/Owner Liability
In order to hold a landlord or property owner responsible for fire injuries, a plaintiff usually needs to show that the landlord/owner was negligent and that this negligence directly caused the injuries.  This can include negligence that led the fire to start or negligence that allowed it to spread.  Civil Code Section 1714 provides the basis for negligence claims declaring that:
"Everyone is responsible, not only for the result of his or her willful acts, but also for an injury occasioned to another by his or her want of ordinary care or skill in the management of his or her property or person, except so far as the latter has, willfully or by want of ordinary care, brought the injury upon himself or herself."
Negligence claims in the rental context typically require showing the defendant knew or should have known about the dangerous condition and failed to exercise reasonable care (i.e. the level of care a reasonable person would use in the same circumstances) leading to a foreseeable injury/loss.  Thus, for example, a landlord might be responsible for a fire that spread because there were not enough smoke detectors, but would not be responsible if the tenant had disabled the existing smoke detectors.
There is a shortcut for proving negligence that can be useful in residential fire cases.  Evidence Code 669 provides that negligence can be presumed if:
The defendant violated a law, ordinance, or regulation;
This violation was a substantial cause of death, injury, or property damage; and
The person injured was someone the rule was intended to protect and the injury was the type of injury the rule was designed to prevent.
This doctrine is called "negligence per se."
A Career Focused on Justice
From his work in the health care fraud context to wrongful death lawsuits against drunk drivers and from representing victims of legal malpractice to serving as a fire injury lawyer in Santa Rosa, Attorney Greg Brod is proud to have dedicated his career to helping people and obtaining justice for "the little guy."  With offices in Santa Rosa, San Francisco, and Oakland, our firm is here to help.  Call (800) 427-7020, email info@brodfirm.com, or use the form on the left-hand side of your screen to learn more.  We can help, but only if you call.
See Related Blog Posts:
A Discussion of Electrical Fires from Your Santa Rosa Fire Injury Law Firm
San Francisco Apartment Rental Fires & The Law