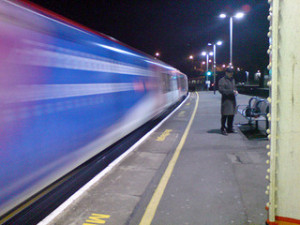 On Tuesday, we discussed non-passenger accidents involving San Francisco's Municipal Railway ("Muni").  After that article posted, in a bizarre and tragic twist of fate, multiple accidents occurred in our region including several different transit providers.  The thought and hearts of our Oakland train accident lawyer and our entire legal team go out to the individuals and families affected by these tragedies.  Given Tuesday's events, we wanted to touch on the issue of train accidents and train fatalities once more and take a broader look at accidents involving railroad vehicles.
A Tragic Day on the Tracks
The Oakland Tribune reports that Tuesday evening's commute saw collisions involving every major public transit agency in our region, including two deadly accidents.  Officials say it is unclear what exactly led to the four separate collisions.  In particular, in the first three incidents, the article suggests that it is unclear why the parties involved were present on the tracks.
The first accident occurred around 4:30 PM.  A northbound VTA light rail train struck a pedestrian near the Fruitdale station in San Jose.  The pedestrian was stuck under the train and was initially responsive when rescue workers arrived but, unfortunately, died while firefighters were working to remove the individual from the tracks.
Within minutes of the deadly VTA incident, a second accident occurred in Santa Clara.  The Tribune reports that a Capitol Corridor Amtrak train collided with a car in the vicinity of Agnew Road and Lafayette Street.  The 55-year-old driver suffered non-life-threatening injuries.
At approximately 4:45 PM, a third transit accident occurred.  According to the Tribune, Caltrain officials reported a man was struck by a Caltrain vehicle near the San Mateo transit station.  The man survived and was taken to a nearby hospital.
The fourth incident detailed in the Tribune occurred around 6:15 PM at San Bruno station.  A person standing on the platform was hit and killed by a Bart train headed to Pittsburg/Bay Point.  BART officials say they do not yet know what led to the collision.
Train and Rail Fatality Statistics
It is certainly highly unusual to see four serious rail accidents including two fatalities in close proximity in under two hours, but how common are rail accidents generally?  In February, the National Transportation Safety Board ("NTSB") issued a press release examining preliminary figures for all transportation accidents in 2013.  The NTSB reports that there were 891 rail fatalities in 2013 including 526 intercity rail deaths and 345 deaths on light, heavy, and commuter rail systems.  Commenting on these numbers, which reflect a slight increase in deaths over the prior year, the Acting Chairman notes that "[t]he vast majority of these fatalities continue to be trespassers struck by trains."  Additionally, the report notes that a total of 231 people died at grade crossings in 2013, a number spread between the total rail deaths above and the separate figures for highway fatalities.
A Lawyer for San Francisco and Oakland Train Injury Victims and Families
Certainly, rail deaths are a small percentage of the total number of transportation fatalities in our country.  This does not, however, negate the fact that approximately 17 people die in rail-related accidents every week.  Although not included in the cited report, we imagine a much higher number of people are injured in rail accidents.   It is critical that, where appropriate, we hold transit companies and others responsible for these incidents.  The numbers may be a small slice on a pie chart, but they are very real to those impacted and our Oakland rail accident law firm is here to help hold those responsible accountable for their actions.  If we don't, the numbers will only rise and more families will know the pain of a transit tragedy.
See Related Blog Posts:
San Francisco Muni Accident Lawyer Looks at Non-Passenger Muni Accidents
Fresh Concerns About the Liability Limit for Train Accidents
The Danger of Pedestrian Train Crashes
(Image by Fraser Reed)