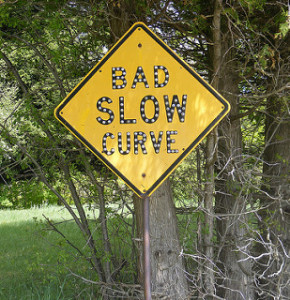 Often, car accidents are the fault of one or more negligent drivers including drunk drivers, texting drivers, and drivers who are simply day-dreaming rather than focusing on the road.  However, when accidents repeatedly occur at the same location, one has to ask if the location is the problem.  Not every Bay Area car accident gives rise to a legal claim regarding dangerous roads in Oakland, San Francisco, and/or Santa Rosa, but sometimes dangerous designs, poor maintenance, or the failure to address another dangerous condition means a dangerous roads lawsuit is appropriate.  Oakland dangerous roads lawyer Greg Brod partners with experts in road design and related topics to help drivers seek justice and to bring about positive change.
Second Accident in Four Days Leaves Three Hospitalized
The Oakland Tribune reports that three people were taken to area hospitals with non-critical injuries following a three vehicle accident in Byron on Sunday night.  Authorities report that a motorcycle and two cars were involved in a wreck just before 7 P.M. on Vasco Road at Camino Diablo.  California Highway Patrol is investigating the cause of the collision.
Notably, the Tribune points out that this was the second crash at the same location in just four days.  On Thursday, a vehicle overturned at the same spot following an accident that left traffic backed up for miles.  Luckily, that accident did not result in any serious injuries.
Dangerous Bay Area Roads and Intersections
It is too early to say whether the Byron crashes were coincidence or the result of a dangerous road.  However, in any community, residents can identify several intersections or roadways that are particularly dangerous.  A 2010 report from NBC Bay Area listed, several of the Bay Area's most dangerous roadways including:
Highway 17 Southbound's Hamilton Avenue off-ramp
Maude Avenue and Highway 237 (Sunnyvale)
Market Street at Octavia (San Francisco)
40th and Telegraph (Oakland)
Brokaw Road's traffic light east of First Street (San Jose)
More recently, prompted by the Vision Zero and Walk First campaigns, experts have focused on the San Francisco intersections that are most dangerous for pedestrians and bicyclists.  According to a 2014 KQED report, researchers found that a mere 6 percent of San Francisco's streets/intersections accounted for a whopping 60 percent of pedestrian injuries and deaths in the city.  The accidents clustered in the Tenderloin, SoMa, and North Beach communities.
Bringing (and Winning) Dangerous Road Conditions Lawsuits
Highway design experts can help pinpoint when accidents are caused by dangerous road conditions and when it may be appropriate to file a civil claim against a city or other public entity.  In general, dangerous road lawsuits fall into three categories including problems with road design, maintenance failures, and the failure to correct/remedy a dangerous condition (discussed in a 2015 state supreme court decision covered by a previous blog post).  More specific examples of actionable dangerous road conditions include: Failure to install traffic control devices; Unsafe curves; Inadequate lane/shoulder width; Visibility impairing trees; Failure to remedy potholes with reasonable speed; Poorly designed merges; and Inadequate pedestrian crosswalks.
If you or someone you love has been injured or if you have lost a close family member due to a car accident in Northern California and you believe a road condition may have contributed to the incident, call our Oakland dangerous intersections lawyer for a free consultation.  Attorney Brod works closely with engineers and other experts to establish cause and advocate on behalf of injured clients.  These claims are complex, but they can be won and, in the right circumstances, they are worth the fight.  Remember, not only can a dangerous roads lawsuit provide you and your family with compensation, a suit can also prompt changes that prevent future accidents and allows your personal tragedy to help prevent countless future tragedies.
See Related Blog Posts:
Dangerous Road Lawsuits: Compensation & Protection
Fatal Single-Vehicle Crash Serves as a Reminder of the Threat of Dangerous Road Conditions
(Image by tlparadis)