It's a scenario we can imagine all too well – you are driving and, almost out of nowhere, you find yourself staring into a set of headlights.  Just the thought of coming (quite literally) face-to-face with a wrong-way driver is enough to send a shiver of fright down your spine.  Perhaps not surprisingly, a large percentage of wrong-way drivers are also alcohol-impaired drivers. The combination can cause serious injuries or even death to innocent travelers.  Our Santa Rosa wrong-way driver lawyer advocates for both the injured and the grieving, helping victims recover the compensation they need and deserve.
Alcohol-Impaired Wrong-Way Driver Had Two Prior DUIs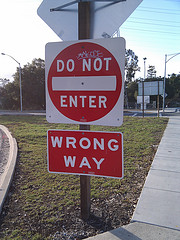 Last week, a judge sentenced a Cloverdale man to five years in prison for a wrong-way drunk driving crash.  According to a news release from the District Attorney's Office, on April 21, 2015, a driver called 911 to report that he'd been forced off Highway 12 in Dunbar by a wrong-way driver.  Before police could respond, the wrong-way driver crashed head-on into another vehicle causing someone in the other vehicle to suffer a broken foot.  Police reportedly observed objective signs showing that the wrong-way driver was intoxicated and conducted a blood test that found he had a BAC of 0.13 (0.08 is the legal limit).
The DA's Office further notes that the defendant, who pled no contest to a felony charge of DUI causing serious injury, had been involved in two prior DUI incidents in January 2015 and May 2009.  Commenting on the case, District Attorney Ravitch said:
"This defendant made the decision to endanger the lives of multiple people by driving impaired.  By sheer luck he did not kill the victim in this case.  Here is an individual that has been warned directly by the court in the past that he could be charged with murder for killing someone during the course of a DUI, and he still chose, on two additional occasions, to get behind the wheel intoxicated.  He is dangerous, and the prison sentence is appropriate."
Other Recent Wrong-Way Crashes
Alcohol-fueled wrong-way crashes are more common than one might imagine, as a quick review of recent news reports reveals.  On October 6, a wrong-way driver in Spokane allegedly fled the scene after causing a four-vehicle accident that sent another driver to the hospital in critical condition with swelling of the brain (KREM).  In Florida, police say a driver had a blood alcohol level of 0.15 when he allegedly drove the wrong-way on I-95 and crashed into another car killing two sisters, a 24-year-old U.S. Air Force staff sergeant and 23-year-old violinist, on September 26 (Sun Sentinel).  Less than a week prior, on September 20, the Atlanta Journal-Constitution reported that police suspected alcohol was a factor in a wrong-way crash that killed the suspect and sent another driver to the hospital with serious injuries.  The article noted that the crash was the second wrong-way accident in two days in the Metro Atlanta region and the prior crash had claimed the life of a police officer.  Yet another wrong-way crash occurred in Idaho on September 12, with police indicating the wrong-way driver had been drinking prior to the accident that killed a father and his two young daughters (KXLY).
NTSB Wrong-Way Crash Study:  Serious, Often Deadly, Accidents Frequently Involve Alcohol
A 2012 study by the National Highway Safety Board ("NTSB") confirms our suspicions about the link between alcohol and wrong-way driving and the seriousness of these events.  Sixty percent of the wrong-way drivers in the NTSB's sample showed signs of alcohol use compared to only 6.5% of the "right-way" drivers involved in the same incidents.  In conjunction with other statistics, this caused the NTSB to conclude "that driving while impaired by alcohol is the primary cause of wrong-way driving collisions."
The NTSB cites several studies demonstrating the severity of wrong-way accidents.  A study conducted here in California found wrong-way accidents had a fatality rate 12 times higher than other accidents on the same set of controlled-access highways.  Overall, the NTSB concluded that there are approximately 260 fatal wrong-way accidents each year resulting in approximately 360 deaths annually.
Northern California Attorney for Wrong-Way Crash Victims
Victims of wrong-way drivers in Northern California are encouraged to call our Santa Rosa car accident injury lawyer.  We offer a no-cost consultation where you can meet directly with our experienced injury attorney to discuss your case.  Call 800-427-7020 or use the form on this page to contact us electronically.
See Related Blog Posts:
Examining Wrong-Way Highway Crashes, Protecting Wrong-Way Crash Victims
Repeat Drunk Drivers: A Look at the Problem of DUI Recidivism
(Image by Jacobo Tarrío)