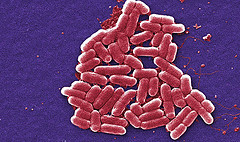 Whether it's to celebrate a special event, a way to spend time with someone you love, an opportunity to get to know someone new, or simply a chance to give the kitchen (and the family chef") the night off, Americans love dining out.  Restaurants can tantalize the taste buds with something new while connecting with our companions or with ourselves.   Thanks in part to a network of health-related laws and regulations, dining out is usually a safe experience and typically the biggest health risk lies in overindulging.  However, on occasion a restaurant meal leaves diners dealing with a foodborne illness, including conditions that can be fatal.  When a meal out in Northern California leaves a patron ill, especially when the illness is serious, our San Francisco restaurant lawyer can help.
Shigella Outbreak Traced to San Jose Restaurant
As of Wednesday, according to the San Francisco Chronicle, officials had identified more than 80 people who were sickened by a bacterial infection after eating at a San Jose restaurant.  After numerous people sought treatment at area hospitals last weekend, doctors and investigators concluded they were dealing with an outbreak of shigella and traced the bacteria to a suspected source, a Mexican seafood restaurant in downtown San Jose.  All of the infected patients had dined at the establishment on Friday or Saturday.   Of the 80 plus people believed to have been sickened by the outbreak, testing has confirmed that 15 have the shigella bacteria.  Twelve patients required treatment in intensive care.  The restaurant is closed while the investigation continues.
Shigella and Shigellosis
According to the Centers for Disease Control ("CDC"), there are four different species of shigella, the bacteria that causes shigellosis and is implicated in approximately 500,000 cases of diarrhea in the U.S. each year.  Shigella is very contagious and transmitted when people consume or otherwise come into oral contact with even a tiny amount of infected fecal matter.  The CDC says shigella infection can occur in several ways including via food that has been contaminated by food handlers or in the growing process.  Symptoms usually arise one or two days after exposure and may include diarrhea (possibly bloody), abdominal pain, and fever.  Although a mild infection may resolve on its own, antibiotics may be needed in more severe cases.  Antibiotic resistance is a problem with shigella and doctors may perform cultures to determine which antibiotics are most likely to successfully treat the condition.

Foodborne Illness Generally
Looking at foodborne illnesses more generally, the CDC reports that 1 in 6 people in the Uni
ted States contracts some form of food poisoning each year.  While most of those 48 million people experience relatively mild symptoms, approximately 128,000 people are hospitalized 3,000 die annually due to foodb
orne illness.  Bacteria can be introduced at various points in the food production process including via watering with water that contains animal fecal matter, by a food handler/service worker with unwashed hands, through the re-use of contaminated utensils or other food preparation equipment, and by cross-contamination from another food item.
Foodborne Illness Lawsuits and a Northern California Foodborne Illness Lawyer
Typically, a foodborne illness lawsuit relies on a defective products claim.  To win via this strict liability theory, a plaintiff usually needs to show that the food consumed was contaminated and that this contamination caused the plaintiff's illness.  The plaintiff does not need to show the defendant was careless.  Negligence claims may also be brought, but these do require proof that the defendant did not exercise reasonable care.  In some cases, a breach of warranty claim may be appropriate.  Similar claims may be made via wrongful death litigation.
Defective product defendants can include parties at various points in the food distribution process including the manufacturer and seller.  Ultimately, the plaintiff will also need to show the amount of damages incurred including physical, economic, and mental/emotional injury.  In the case of a large outbreak, a class action might be appropriate and may be helpful in cases where the amount of damages is fairly low.
While the law is relatively straightforward as to what needs to be proven, actually proving contamination and causation can be difficult.  People who are made seriously ill by food and/or their families should contact an experienced attorney as soon as possible in order to preserve evidence and ensure all claims are timely.  With nearly thirty years of legal experience advocating on behalf of the injured and grieving, Attorney Greg Brod is a knowledgeable San Francisco foodborne illness lawyer with additional offices in Oakland and Santa Rosa.  Our firm would be honored to help you.
See Related Blog Posts:
Contaminated Water and the Threat of Waterborne Illness
Sonoma Food Poisoning Lawyer on Food Safety Law and Allegations of Arsenic in Wine
(Image of e. coli bacteria by James Joel)