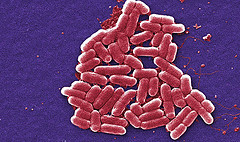 Whether it's to celebrate a special event, a way to spend time with someone you love, an opportunity to get to know someone new, or simply a chance to give the kitchen (and the family chef") the night off, Americans love dining out.  Restaurants can tantalize the taste buds with something new while connecting with our companions or with ourselves.   Thanks in part to a network of health-related laws and regulations, dining out is usually a safe experience and typically the biggest health risk lies in overindulging.  However, on occasion a restaurant meal leaves diners dealing with a foodborne illness, including conditions that can be fatal.  When a meal out in Northern California leaves a patron ill, especially when the illness is serious, our San Francisco restaurant lawyer can help.
Shigella Outbreak Traced to San Jose Restaurant
As of Wednesday, according to the San Francisco Chronicle, officials had identified more than 80 people who were sickened by a bacterial infection after eating at a San Jose restaurant.  After numerous people sought treatment at area hospitals last weekend, doctors and investigators concluded they were dealing with an outbreak of shigella and traced the bacteria to a suspected source, a Mexican seafood restaurant in downtown San Jose.  All of the infected patients had dined at the establishment on Friday or Saturday.   Of the 80 plus people believed to have been sickened by the outbreak, testing has confirmed that 15 have the shigella bacteria.  Twelve patients required treatment in intensive care.  The restaurant is closed while the investigation continues.