It's a story we've followed for years – problems that plagued the Bay Bridge construction project and continue to arise more than two years after the grand re-opening.  We hope that paying attention NOW helps prevent tragedy LATER, such as the frightening collapse of the previous span during the 1989 Loma Prieta earthquake.  As a San Francisco construction defect injury law firm, we represent plaintiffs injured by construction defects, people for whom repairs come too late.  We hope our services are never needed for injuries tied to the Bay Bridge construction (or any other project, for that matter), but when shoddy workmanship on a home, road, or any other manmade structure leads to injuries anywhere in Northern California we are here to help.
More Defects Found in Bay Bridge Components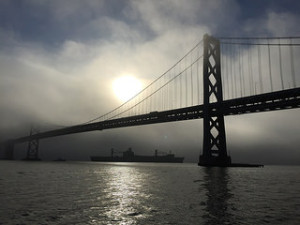 According to the San Francisco Chronicle, new documents are raising new concerns about the integrity of steel rods used in the eastern span of the Bay Bridge.  The newly released report includes statements from an independent engineer suggesting that previously discovered micro-cracks caused by water exposure are present in parts of the span far from where issues were first discovered.  Cracking could, per experts, lead to failure.  The report is part of a $20 million testing program undertaken after flooded sleeves caused cracking and, in one case, failure of tower rods.
The Chronicle reports that Caltrans concedes it failed to inspect the 2,000-plus rods to ensure they met industry standards.  Per the project's chief engineer, "It looks like we didn't do the quality assurance we were supposed to do."  The report suggests that Caltrans believes the rods will not cause any major problems, but some experts disagree and are raising the alarm.  Additional problems in connecting threads have also been uncovered.  The Chronicle article details problems with cables, tower rods, bridge decks, and leaks that have plagued the$6.4 billion project.
California Construction Defect Litigation: General Requirements
We hope that discovering problems before an accident helps prevent any injuries or loss of life due to construction defects on the Bay Bridge.  Bridges are certainly not the only structure susceptible to construction defects; they can occur in almost any manmade structure from homes to highways.  When defects lead to injuries, the victims can and should seek compensation from those at fault.  In some cases, a strict liability product defect framework applies.  Other cases proceed under a typical negligence framework requiring the victim to prove that: 1) The defendant owed the plaintiff a duty of care; 2) The defendant did not meet that standard; and 3) That failure caused harm to the plaintiff.  Importantly, in order to be actionable, the injuries stemming from a defect must be reasonably foreseen.
For this blog entry, our inquiry is focused on cases involving actual injuries or fatalities.  However, it is worth noting that California has a legal framework for addressing residential defects prior to an actual injury.  While Civil Code 895 et. seq. provides an exclusive remedy in those matters, it does not bar other actions when an injury has occurred.
Construction Defect Litigation: Standard of Care
California plaintiffs must specifically establish the standard of care in construction defect cases via expert testimony.  Courts often look for a failure to meet building code requirements or more general professional standards.  Contractors and subcontractors are generally liable for ordinary negligence and must perform work in a good and workmanlike manner that complies with all contractual duties and is sufficiently free from defects.  In contrast, architects and engineers must meet a higher professional standard of care (see Civil Jury Instruction 600).  This higher standard means acts are judged against the skill and care of an ordinary member of the profession under similar conditions.  General contractors are typically responsible for the acts of a subcontractor.
A San Francisco/Oakland/Santa Rosa Lawyer for Construction Defect Cases
If you were injured or lost a family member because of a construction defect in a bridge or any other structure in the Northern California region, call our defective construction lawyer in San Francisco.  Attorney Brod is committed to helping victims recover needed funds in San Francisco defective road lawsuits and similar actions throughout Northern California, including cases against government and private parties.  Call to arrange a free consultation.
See Related Blog Posts:
Building Defects and Design Defects: Key Forms of Construction Defect Injury Claims in California
Bridge Safety Lawyer Comments on Bridge Collapses as Caltrans Announces Another Problem on Bay Bridge
(Image by Edward Stojakovic)