Technology enhances our lives in many ways. In the automotive sector, new products are emerging constantly that make our travels safer and more enjoyable. However, technology and driving isn't always a good mix and, while science leads us forward, it often feels like the law is struggling to catch up. Legislatures are still ironing out policies on voice calls and texting behind the wheel, even as a Pew report shows a majority of Americans now own smartphones, a whopping 91% of American adults have some form of cell phone, and 81% of cell phone owners send and receive text messages. This week, an interesting story caught the attention of our Northern California distracted driving injury attorney, reminding us that technology continues to evolve and connectedness is not always a positive safety feature.
New Technology Puts Computer Screen in an Eyeglass
A California court may have seen a first-in-the-nation moment this week when a woman pleaded not guilty to a traffic citation involving the use of Google Glass, a device that an Associated Press report carried by the San Francisco Chronicle referred to as a "computer-in-an-eyeglass." Although the technology will not be available to the general public until some point in 2014, Ceclia Abadie is one of approximately 10,000 people who have had the opportunity to serve as "explorers" and tryout the eyeglass-style device. Google Glass includes both a camera and a thumbnail-sized transparent display screen. The display screen, located above the user's right eye, responds to voice commands. In addition to accessing email and getting driving directions, wearers of the lightweight frames can look at something and instantly get information on the display about the item. Notably, legislators in three states (Delaware, New Jersey & West Virginia) have proposed legislation that would ban driving while using Google Glass.
From Car to Courtroom with Google Glass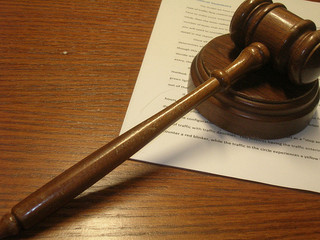 In October, Abadie was pulled over on a San Diego freeway by a California Highway Patrol officer for allegedly going 80mph in a 65mph zone. The officer noticed that she was wearing Google Glass and also cited her for an additional offense, tacking on a charge typically given to drivers who have a TV or video screen on in the front portion of their automobile. On Tuesday, Abadie, who is a software developer, appeared in San Diego traffic court and pled not guilty to both the speeding and device-related charges. Her attorney says she will testify that the device was not on while she was driving and was only activated when she moved her head to look up at the officer, noting that a head tilt "wakes up" the device. Additionally, her lawyer says the video screen citation is not relevant to mobile technology.
Working to Stop Distracted Driving, Whatever the Distraction
According to Distraction.gov, 3,328 people died as a result of distracted driving crashes in 2013. We have seen families and individuals affected by this epidemic. We believe that civil suits by the victims of distracted drivers can serve an important policy goal, holding drivers responsible for their actions even where the criminal law and/or vehicle codes have not yet responded to a particular form of distraction. Whether the driver was distracted by the latest technology or something as basic as reaching for a fallen wallet, if a distracted driver left you or a family member injured, you should seek legal counsel. Serving all of Northern California via our San Francisco, Oakland, San Jose and Santa Rosa injury law offices, the Brod Law Firm helps victims recover critical compensation and send a clear message that distracted driving will not be tolerated.
See Related Blog Posts:
Distracted Driving, Old and New
Fatal Accident Serves as Reminder of the Danger of Distracted Driving
(Photo by Brian Turner)