Being a parent is hard work.  There is no greater responsibility and no greater joy.  As the parents on our team know firsthand, most parents try their very best to keep our children safe.  Still, we are all too aware of the fact that tragedies happen.  Falling furniture remains a source of far too many child injuries and child deaths.  We can all help prevent tip-over accidents, but we should also be able to trust that the products we bring into our homes are reasonably safe.  When a dangerous product leaves a child injured or claims a child's life, our San Francisco child injury law firm can help the family get recover compensation and help to prevent future tragedies from occurring.
IKEA Recalls Furniture Blamed for Six Child Deaths Due to Tip-Over Concerns
As reported this week by SFGate.com and the Associated Press, Ikea is recalling 29 million pieces of furniture in the wake of six reported child deaths linked to toppling units.  According to the Consumer Product Safety Commission ("CPSC"), all six deaths involved children aged three years or younger.  One of the deaths occurred some 27 years ago, but the other five occurred between 2002 and 2016.  Additionally, the CPSC reports it has received 36 reports on child injuries linked to the furniture.
The article reports that the recall applies to several different types of chests and drawers sold by Ikea to customers in the U.S. and Canada.  Affected units include children's chests and drawers that exceed 23.5 inches in height and adult chests and drawers over 29.5 inches tall.  The CPSC says the items are unstable if not secured to a wall and a press release from IKEA notes that the units do not meet voluntary industry standards intended to prevent tip-over accidents.  The company recommends that unsecured units be removed from children's reach.  According to the AP report, the company's US president has said that the instructions sold with the units did say they should be mounted to the wall.
IKEA is offering free kits that allow the furniture to be secured to a wall.  For those who wish the return the items, the retailer is offering full refunds to owners of units manufactured between 2002 and 2016 and store credit for one-half the original price on older units.  More detailed information on the recall is available via the above-linked IKEA press release.
Frighte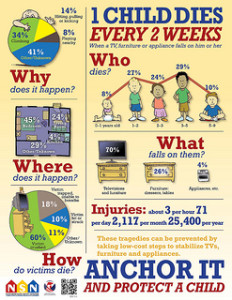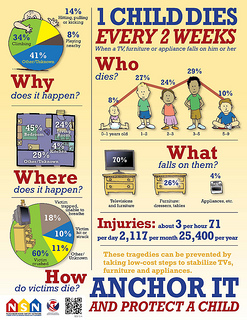 ning Statistics on Tip-Over Accidents
In June 2015, the CPSC launched the Anchor It! Campaign in an effort to prevent tip-over injuries and deaths.  Culprits in tip-over accidents include top-heavy furniture and televisions placed on top of furniture items.  The press release for the campaign notes that, on average, on child dies every two weeks because of a tip-over incident.  Of the 430 such deaths reported to the CPSC between 2000 and 2013, 84% involved children under the age of 10.  Additionally, emergency rooms in the U.S. see 38,000 injuries a year stemming from tip-overs with two-thirds of those injuries involving children under age 5.
The Brod Law Firm urges all parents and caregivers to heed to CPSC's message and anchor furniture and televisions to help prevent tip-over accidents.  More information is available through the CPSC's Tip-Over Information Center.
Prevention, Compensation, Justice
In some cases, legal action may be appropriate when a child is injured or killed by falling furniture.  Potential defendants can include companies that manufactured unsafe furniture, companies that made faulty anchoring products, or caregivers that failed to provide a safe environment for children.  Remember that the law understands that no one is perfect and you may have a case even if furniture in your home was not secured to the wall.
Our child injury law firm in San Francisco, Oakland, and Santa Rosa understands the unique issues and emotions involved when a tragedy involves a child.  We can help the family recover the compensation needed to move forward and we also believe that holding the responsible parties accountable can help prevent future tragedies.  Call if we can help you, your child, and your family.
See Related Blog Posts:
School Bus Safety: Protecting Our Most Precious Resource
Children at Risk: Number of E-Cigarette Poisonings Involving Young Children Skyrockets
A Warning About the Danger of Falling Furniture from Our California Child Injury Law Office
(Image by U.S. Consumer Product Safety Commission)