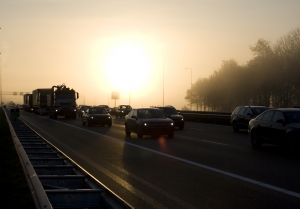 The San Francisco Gate reported last week on a bizarre Oakland motorcycle accident that apparently was caused intentionally by a paratransit van driver. A thirty-one year old Oakland man, Eddie Hall was recently charged with homicide following his conduct which caused the death of fifty-one year old George Lopez of Stockton. The incident occurred late last month on Interstate 580 in San Leandro.
The accident is still under investigation, however police believe that Mr. Hall was driving an East Bay Paratransit van in the right hand lane of the highway with a group of motorcycle riders immediately to his left. Witnesses report that Mr. Hall "aggressively" swerved his van into the left hand lane, colliding with the cycle being ridden by the victim, Mr. Lopez. The rider was knocked off the bike, ultimately falling into the path of the van which ran over him. His motorcycle was wedged underneath the van. Apparently the van driver continued driving for at least a mile with the motorcycle wedged underneath the vehicle, before the motorcycle burst into flames. At that point, Mr. Lopez got out of the vehicle and fled the scene on foot. He was eventually apprehended by a sheriff's deputy. He has since been charged with homicide for the death of George Lopez, as well as for attempted homicide for another motorcycle that was in the group when he veered into their lane on the highway.
Unlike other highway crashes, this Interstate 580 accident was no accident at all. Questioned after the event, Mr. Hall admitted that he intentionally drove into the motorcyclists because he was upset at the way that the motorcyclists and other drivers were behaving on the road. In other words, this seems to be a case of extreme road rage with deadly consequences.
Our Oakland motorcycle crash lawyer knows that incidents like these have a wide variety of legal implications. For one thing, it will need to be determined exactly what role the East Bay Paratransit organization had in this accident. Factors like whether or not Mr. Hall was on duty at the time, how long he had been on the job, and anything in his background that may have suggested he might be capable of this conduct all would factor into potential liability were a civil lawsuit to be brought forward. Agency rules under the law often apply in these situations. That means that a "principal" (in this case the man's employer) may be liable for the actions of the "agent" (the employee). Also, the employer may be guilty of negligence in its own right, irrespective of their actual liability for their employer's conduct under agency rules.
Of course, it is important to remember that this only apply to civil law, not criminal law. The specific crimes with which Mr. Hall have been charged are completely separate from any civil liability that he or his employer may face following this crash. Often an event will have both criminal and civil implications. The criminal charges are those stemming from a specific law being broken and those charges can only be brought by the state. Conversely, civil suits are brought by the victims themselves, or in the case of a victim who is killed, by their family. These suits have completely different standards of proof and potential implications. It is therefore important for all those involved in these events to visit with an Oakland auto accident attorney to ensure that their interests are protected.
See Our Related Blog Posts:
The Most Dangerous Places for Pedestrians in San Francisco
Oakland-San Francisco Attorney Comments on Highway Accidents