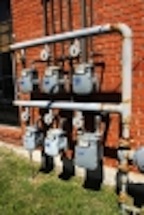 As we approach the third anniversary of the September 9, 2010, gas line explosion in San Bruno that killed eight people and destroyed and damaged more than 50 homes, Pacific Gas and Electric Company, the utility whose gas lines exploded, has yet to complete an overhaul of its gas system in the San Francisco Bay Area. According to Bloomberg, the California Public Utilities Commission, which is the state agency responsible for regulating PG&E, also has yet to determine a punishment for the fiery catastrophe but expects to make a decision by the end of this year.
Utility's Bill for Disaster Yet to be Tallied
Should the CPUC levy a $2.25 billion fine – commission staff recommended that penalty last month – PG&E's total bill for the disaster would come to $4 billion, including funds already spent on infrastructure repairs and safety upgrades, according to company Chairman and Chief Executive Officer Tony Earley. In the meantime, the utility and its shareholders are concerned that the CPUC-imposed fine could push PG&E into its second bankruptcy in 12 years.
Concern over PG&E's financial health notwithstanding, much work remains to be done on the Bay Area's gas line network, with many infrastructure and safety issues that were raised by the explosion still unresolved or whose fixes are a work in progress. And, according to a recent report in the San Francisco Chronicle, PG&E has not been forthcoming enough on disclosing problems concerning transmission lines in its system and has employed records with errors to document maintenance. With natural gas such a volatile element and with the high-use winter months fast approaching, a less-than-safe gas network and an error-prone utility maintaining that system is hardly a reassuring combination for residents of San Bruno and other Bay Area communities to contemplate.
Poor Record-Keeping Bedevils Gas Network Still in Need of Key Fixes
Inaccurate records were a key factor behind the September 2010 disaster in San Bruno. PG&E failed to accurately describe the failed gas line's characteristics, which in turn led to the utility not conducting tests that would have revealed the gas line's fatal flaws. Furthermore, PG&E's erroneous or outdated records led the utility to run a gas line at a pressure level that was dangerously too high for another urban area on the Peninsula. Indeed, government investigators have found that PG&E has inaccurate or even nonexistent records for much of the more than 1,000 miles of gas transmission lines in its system. These fundamental lapses in record-keeping procedures have come to light in the context of revelations that PG&E workers have found significant stretches of gas pipes with faulty seams in a major connector line on the Peninsula – contrary to what records kept by the company asserted – which could result in a major explosion similar to the one that rocked San Bruno three years ago.

We would hope that PG&E will correct its record-keeping deficiencies and step up its efforts to repair and properly maintain its gas line network, as an urban landscape riddled with improperly maintained equipment can never allow residents of the Bay Area to feel completely at ease. As the residents of San Bruno can attest, the consequence of flawed or defective products and workmanship can be catastrophic explosions, which often result in deaths or people with severe burns or other disfigurements. The experienced burn-injury attorneys at the Brod Law Firm have an excellent record for handling and winning burn cases. If you or a loved one has fallen victim to a natural gas explosion or burn injury, please contact our firm for a free consultation.
-James Ambroff-Tahan contributed to this article.
See Related Blog Posts:
Gas Explosions in the San Francisco Bay Area–A Danger Lurking Around the Corner?