Like the rest of the country, our San Francisco insurance lawyers are eagerly waiting for the Supreme Court's ruling on the Affordable Care Act (the so-called "Obamacare"), which should be handed down soon. Since the oral arguments earlier this year, this has been a huge national issue (see our previous post about the debate here).
So much is at stake with this law. There are nearly seven million Californians who do not have health insurance. A new study by Families USA reports that California has the highest number of residents who die prematurely each year from lack of health insurance. According to the study, 3,164 California residents between the ages of 25 and 64 died prematurely in 2010 because of lack of insurance, or about 61 residents per week! These are unacceptably high numbers. Californians are less likely to have health insurance, receive employer-based insurance, and be able to afford coverage than residents of other states. Californians are also more at risk of being denied coverage for preexisting conditions than those in other states.
Nationally, this new study found that those who died from lack of health insurance per year grew as well. In 2005 that number was 20,350. By 2010, it was 26,100. And over that five year period, a shocking 134,120 US residents died prematurely from not having health care coverage.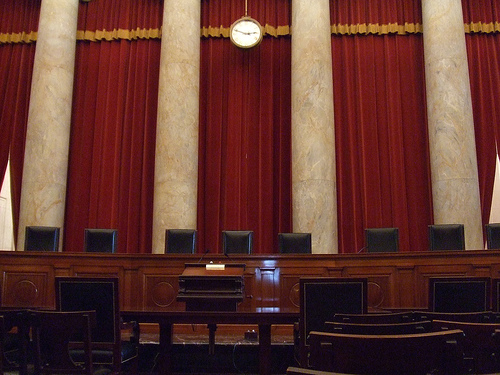 Whether the entire law, or only part of it, or none of it, is struck down will have important ramifications for the insurance industry and for all Americans. The Supreme Court will decide whether the federal government can require Americans to buy health insurance and whether they have the power to pressure states into expanding insurance coverage through Medicaid. The Court is expected to issue its ruling by the end of June, so it could come any day now.
California is aggressively implementing the law's provisions now, even before the ruling. "California has been moving ahead 100 percent assuming it will upheld," says Peter Lee, who left his Washington job as a health policy official in the Obama administration to lead California's Health Benefit Exchange. The state is expanding Medicaid as a bridge until the Affordable Care Act's implementation in 2014. It is estimated that 500,000 Californians would lose heath care coverage if the law is struck down according to Anthony Wright, executive director of Health Access California. Conversely if the law is upheld an estimated 90 to 95 percent of Californians would be covered. So our state in particular has a big stake in the outcome of this Supreme Court case.
Mr. Wright told the Los Angeles Times that, "If they just strike the mandate and nothing else, we believe California can go full-speed ahead in implementing the law. California could craft its own version or alternative." In that vein, California lawmakers have been working on legislation that would replicate key pieces of the federal law, including bills defining standard health benefits and guaranteeing coverage to people with pre-existing conditions.
If you are having problems with your insurance company denying you coverage, contact an experienced California insurance attorney in your area.
See Our Related Blog Posts:
Insurance Company Ordered to Pay Elderly Woman for Kicking Her Off her Health Plan
National Health Care Insurance Debate and How it Affects California