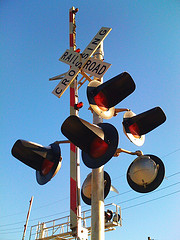 At The Brod Law Firm, we support efforts to make a variety of transportation options available to our Northern California community.  Commuter trains and light-rail vehicles are critical to life at work and life at play for thousands of Californians.  Transit systems not only need to be available to make our region run effectively and efficiently, they need to be safe.  It is inevitable that tracks will meet roads and these crossings are among the most dangerous areas for mass transit systems.  As a San Francisco light-rail accident lawyer, Attorney Brod helps people injured in crashes between trains and automobiles.  Our team investigates, determines fault, and seeks compensation on behalf of those injured in railroad crossing accidents.  Whether the accident was caused by a careless driver, a negligent train operator, the profit-driven San Francisco Municipal Railway ("Muni") organization, or another entity/individual, we can help.
Light-Rail Crossing Crash Injures Five
A crash between a light-rail vehicle and a truck left five people injured and snarled traffic as many people returned to their normal work lives on Monday morning.  According to CBS SF, the crash occurred in the Bayview District near the intersection of Third Street and Egbert Avenue around 9:15 AM.  A Muni spokesman told CBS that the collision occurred when a truck made a left turn and crossed in front of the train.   Four passengers and the Muni operator were treated for knee and/or neck injuries, none of which were deemed life-threatening.  Light-rail lines were temporarily stopped at Third Street and Armstrong Avenue and bus shuttles were used to take riders around the scene of the crash while it was cleared.

Railway Crossing Collision Statistics
Operation Lifesaver ("OL"), an international non-profit focused on rail safety education, reports that 2014 saw 2,287 grade crossing collisions nationwide, a 9% increase over the 2,098 collisions in 2013.  OL reports that, based on preliminary data from the Federal Railroad Administration, these collisions resulted in 832 injuries (down 14.4% from 972 in 2013) and 269 deaths (up 15.9% from 232 in 2013) in 2014.  Notably, while Texas saw more grade crossing collisions than any other state in 2014, California saw the highest number of grade crossing fatalities with 33 deaths.
Grade Crossing Safety Tips for Drivers
Hammering home the potential danger of crashes between autos and trains, OL warns that motorists are nearly 20 times more likely to die when they are in a collision involving a train than in a crash with any other form of motor vehicle.  In order to keep both riders and motorists safe, OL provides the following tips for drivers:
Trains are often closer and faster than they appear. If you see a train coming, let it pass before driving across the tracks.
Trains cannot stop quickly. It can take a mile or more (18 football fields!) for a train travelling at 55mph to come to a stop once the emergency brake is applied.  Do not assume the conductor will see you and be able to stop in time.
Always use a designated crossing and look both ways before proceeding across tracks. Cross swiftly and do not stop within 15 feet of the rail.  Remember: Trains typically extend three feet past the tracks on each side.
Driving around a lowered gate at a crossing is both illegal and potentially deadly. Never maneuver around lowered gates.  Call the toll-free number posted near the crossing or phone local law enforcement if you believe a signal is malfunctioning.
Avoid getting trapped on the tracks. Only proceed if you are certain you can completely clear the area before the train arrives.  Leave extra space for the overhang of the train past the tracks.
Be especially cautious at crossings with multiple tracks. Always watch for additional trains travelling in either direction.
If your vehicle stalls on the tracks when a train is coming, get out immediately. Run away from the tracks and in the direction the train is coming from in order to avoid being hit by debris if a collision occurs.  Call local law enforcement once you are safely out of danger.
To quote the OL, "ALWAYS EXPECT A TRAIN!" Freight trains may not be following a set schedule and passenger trains might be off-schedule too.
A Law Firm for Train Accidents in Oakland, Santa Rosa, and San Francisco
Staying safe should always be priority number one.  If you are injured in a train/auto collision, you should contact an experienced lawyer as soon as possible.  As a San Francisco Muni accident lawyer, Greg Brod can help people injured in transit accidents throughout the Northern California region, including accidents involving Muni vehicles or other rail systems.  He has the knowledge and experience to investigate and bring claims against the at-fault party whether the accident was caused by the train, a driver, or a combination of parties.  Attorney Brod's skillset includes specialized knowledge of the complex rules governing claims against public transit authorities.  Call to learn more.
See Related Blog Posts:
Tragic Day Highlights the Problem of Railway Fatalities
San Francisco Muni Accident Lawyer Looks at Non-Passenger Muni Accidents
(Image by Patrick Hoesly)