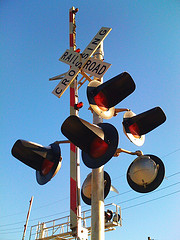 At The Brod Law Firm, we support efforts to make a variety of transportation options available to our Northern California community.  Commuter trains and light-rail vehicles are critical to life at work and life at play for thousands of Californians.  Transit systems not only need to be available to make our region run effectively and efficiently, they need to be safe.  It is inevitable that tracks will meet roads and these crossings are among the most dangerous areas for mass transit systems.  As a San Francisco light-rail accident lawyer, Attorney Brod helps people injured in crashes between trains and automobiles.  Our team investigates, determines fault, and seeks compensation on behalf of those injured in railroad crossing accidents.  Whether the accident was caused by a careless driver, a negligent train operator, the profit-driven San Francisco Municipal Railway ("Muni") organization, or another entity/individual, we can help.
Light-Rail Crossing Crash Injures Five
A crash between a light-rail vehicle and a truck left five people injured and snarled traffic as many people returned to their normal work lives on Monday morning.  According to CBS SF, the crash occurred in the Bayview District near the intersection of Third Street and Egbert Avenue around 9:15 AM.  A Muni spokesman told CBS that the collision occurred when a truck made a left turn and crossed in front of the train.   Four passengers and the Muni operator were treated for knee and/or neck injuries, none of which were deemed life-threatening.  Light-rail lines were temporarily stopped at Third Street and Armstrong Avenue and bus shuttles were used to take riders around the scene of the crash while it was cleared.