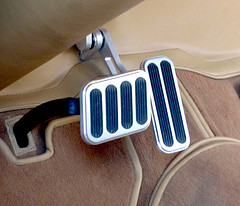 Often the most important parts of any task are also the most basic.  Drivers learn the difference between the brake and the accelerator before they even put the car in drive.  While this is a fundamental matter for any driver, pedal confusion accidents happen with alarming frequency.  Avoiding pedal errors is critical.  When accidents do happen, our San Francisco pedal confusion injury lawyer is ready to help the injured.  It is important to remember that no matter how sympathetic the defendant may be, and those involved in accidents are often good people who made one unintended mistake, those injured because of another's actions deserve compensation.
One Dead, Five Injured Following Livermore Pedal Confusion Accident  
A frightening scene unfurled at a Livermore gym early Tuesday.  The San Francisco Chronicle reports that around 6:30 A.M. an 80-year-old driver confused the accelerator and brake pedals sending her car crashing into the lobby of LifeStyleRx health club at 1119 E. Stanley Boulevard.  Livermore police told reporters that the female driver "experienced pedal confusion" while parking her Mercedes SUV.  The crash led to the death of 49-year-old Katheryn Baker, the chief financial officer of Lawrence Livermore National Laboratory, a government-owned technology company in the national security arena.  Five others were injured and taken to hospitals.  Police do not believe alcohol or drugs were factors in the accident.
Statistics on Pedal Error Accidents
According to a National Highway Traffic Safety Administration Safety Advisory released in May 2015, some 16,000 preventable crashes occur annually due to pedal error.  Pedal errors can involve a driver mistakenly pressing the accelerator when intending to brake, the driver's foot slipping from the brake to the accelerator, or the driver simultaneously stepping on both pedals instead of solely on the brake.  These tend to be low-speed events, often occurring during parking but also at intersections and on highway off-ramps.  Drivers typically recognize the mistake quickly, but may still be unable to avoid a collision.
The 2015 advisory suggests pedal confusion is most common at either end of the age spectrum.  Drivers under age 20 and over age 65 experience pedal confusion more often than drivers in "middle" ranges. Although not discussed in the 2015 piece, a 2012 NHTSA report titled Pedal Application Errors (available for download) found females were heavily overrepresented in pedal misapplication accidents.  In that study, researchers found female drivers accounted for nearly two-thirds of pedal misapplication crashes despite the fact that women are implicated in fewer crashes than men overall.  Notably, the 2012 study contains a much lower estimate of the total number of pedal error crashes, 15 per month or 180 per year, but the authors caution that the number may be significantly under-inclusive due to reporting and archiving issues.
Preventing Pedal Error Crashes
In the 2015 advisory, the NHTSA provides five basic tips for preventing pedal error crashes.  Briefly, the agency suggests drivers:
Be familiar with the vehicle and adjust the seat, mirrors, wheel, and (when possible) pedals before driving.
Always aim to press the center of the brake pedal.
Stay focused on driving, avoiding distractions until the vehicle is parked and turned off.
Exercise caution, including proceeding slowly when entering/exiting parking spaces.
Wear smart footwear, choosing flat-soled, lightweight shoes and avoiding high heels, flip-flops, or heavy boots.
Obtaining Compensation in Northern California Pedal Confusion Accidents
Prevention is always preferable, but people injured due to another driver's pedal error deserve proper compensation.  In some of these cases, the injured party may be concerned about "going after" a sympathetic defendant such as an older individual who appears contrite and did not intend any harm.  The truth is that injuries are injuries; the costs are not lower and the pain is not lessened because the party who caused the injury is sympathetic.  Remember, it is usually the insurance company that actually pays any award to the injured person.  Additionally, personal injury cases serve to call attention to problems like pedal confusion, attention that is critical to prevention.
If you've been injured in or lost a loved one to a pedal confusion accident in Northern California, The Brod Law Firm can help.  Call to arrange a free consultation with our experienced car accident injury lawyer in Oakland, San Francisco, Santa Rosa, or at a location convenient for you.
See Related Blog Posts:
The Surprisingly Common Danger of Vehicles Crashing Into Buildings
Study Examines Factors Influencing Pedal Confusion Accidents
(Image by Ray Sawhill)