It can happen in a matter of minutes. A house fire can engulf a residence, causing extensive property damage, burn or smoke-related injuries, and even death. All too often, home fires are the result of careless decision-making characterized by people taking unnecessary and unwarranted risks that often involve neglecting safety to save a little bit of money. As a San Francisco tenant injury lawyer, Attorney Brod has helped many renters who were left facing the consequences of their landlord's dangerous choices.
Fire Injures One, Leaves Four Others Displaced in Hayes Valley
2013 came to a terrifying close for residents of a home in San Francisco's Hayes Valley neighborhood. The San Francisco Chronicle reports that the one-alarm fire erupted at 5:42 A.M. on December 31 on the second-story of a residence on the 600 block of Fulton Street. Authorities say that one resident was taken to the hospital for treatment of unspecified injuries. Four others who were also displaced by the fire are receiving assistance from the American Red Cross. The cause of the blaze could not be immediately identified.
Causes & Compounding Factors in Home Fires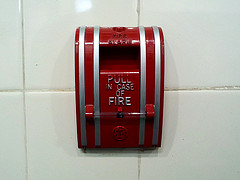 Home fires can have a myriad of causes, including many that can place a renter in both economic and physical danger. Fires may be sparked by a defective water heater, faulty wiring, or a malfunctioning appliance, to name just a few causes that are often under a landlord's control. Likewise, poor choices on the behalf of a landlord or owner can lead to a small fire erupting into an enormous, threatening blaze. Examples of exacerbating factors include blocked fire exits, absent or non-functioning smoke alarms, and other missing fire safety equipment. In addition to landlords or owners, defendants in apartment fire cases may include builders, electricians, installers, or the manufacturer of faulty appliances.
Landlord Liability, Tenant Representation
In most cases, in order to recover monetary damages, a tenant must show that fire was the result of negligence on behalf of the landlord or other defendant. Often this includes proving that the defendant knew or should have known about the dangerous condition that led to the blaze. Additionally, the failure to install and/or maintain smoke detectors can give rise to liability if a working device would have prevented or slowed the fire. The law presumes landlord negligence in two situations: 1) Where the landlord violated a state/local statute (termed "negligence per se" and covered by Evidence Code Section 669) or 2) Where the fire began in an area that is used and controlled exclusively by the landlord or his agent. In general, fire injury or property damage claims fall under the two year statute of limitations applicable to negligence actions.
There is often an imbalance of power in the landlord/tenant relationship that can leave renters vulnerable to unscrupulous landlords. In the case of apartment fires, a landlord's negligence can leave a renter facing life-long physical and emotional damage. In some cases, this malfeasance can also be deadly. If you have been the victim of a landlord's bad decisions, our San Francisco apartment fire lawyer can help you recover monetary damages. Call to arrange a free consultation.
See Related Blog Posts:
Fire Injury Lawyer Urges Caution to Prevent Home Heating Fires this Holiday Season
A Look at Sources of Compensation for Fire Injury Victims
(Photo by Ben Schumin)