Like many of you, we enjoyed cheering Team USA to victory in the women's World Cup on Sunday.  Soccer is the world's most popular sport and the win will only add to the growing number of Americans playing and watching the game.  Of course, along with an increase in popularity comes an increase in soccer injuries.  Although most sports injuries are unfortunate accidents, sometimes, especially where children are involved, our San Francisco sports injury lawyer believes a civil lawsuit against those whose actions led to a preventable injury is appropriate.  Sports injury lawsuits compensate the injured and protect the health of all players.
Pro Golfer Injures Ankle Playing Soccer
A reminder of the reality of soccer injuries came from an unexpected source on Monday – pro-golf.  As the San Francisco Chronicle reported, Irish golfer Rory McIlroy ruptured an ankle ligament while playing soccer with friends.  McIlroy is currently ranked as the top golfer in the world, but it is unclear if he will be able to defend his British Open title next week (he's one of two favorites).  McIlroy shared a photo of himself wearing an air cast and using crutches and told reporters that he was taking it day by day and had begun a rehabilitation program.  The left ankle is important in golf since right-handed players build swing strength by shifting weight from left to right.
Soccer Injuries on the Rise in U.S.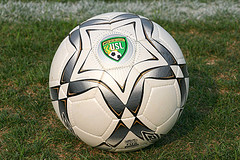 McIlroy's story is a reminder that sports injuries can impact anyone, even elite athletes.  Most of the research on soccer injuries focuses on youth players.  A 2010 article from the journal Pediatrics found that youth soccer players face a higher rate of injuries than players of most sports.  Using data from the Consumer Product Safety Commission ("CPSC"), the authors identified approximately 186,544 soccer-related injuries nationwide in 2006.  Around 80% of the injured were younger than 24 with about 44% under 15.   The most common injuries involved the lower-extremities.  Young female players experienced a disproportionate number of knee injuries while young males were more likely to have ankle injuries.  Concussions are a very real danger for all youth soccer players (see blog post linked below).
This year, a Sports Health article tried to fill in some gaps by looking at adult soccer injuries.  The researchers noted that there was an overall increase in soccer injuries from 2000 to 2012, but studies focused on children and teens.  Of the estimated 2,472,066 soccer injuries in the U.S. during the 13 year span, 25.5% involved adults aged 20 to 49 years.  The researchers proved what they suspected: there was a significant increase in adult soccer injuries between 2000 (41,292) and 2012 (55,743).  For all ages, males experienced more injuries than females, although the study does not control for participation differences and thus doesn't speak to injury rates by gender.   Adults were more likely than children to sustain a sprain or strain injury.
Sports Injury Litigation: Beyond Accidents
Many, perhaps most, sports injuries are simply an unfortunate accident.  However, sometimes a person/entity bears blame.  Goalpost injuries are a prime example.  In 1995, the CPSC issued "Guidelines for Movable Soccer Goal Safety" due to concerns about goalpost-related accidents, particularly tipovers.  Falling goalposts contributed to four deaths in 1990, at least 21 fatalities from 1979 to 1994, and approximately 120 injuries annually from 1989 to 1993.  The Guidelines did not, however, eliminate the problem.  A 2007 CBS News article reports that at least one child dies and 200 are injured each year because of falling goalposts.
Injuries/Fatalities can also be caused by other types of unsafe equipment.  In these cases, a product liability suit could help compensate an injured athlete or grieving family and could spark changes that protect against future tragedies.  There are a range of other soccer injury scenarios that might lead to a legal claim.  A few examples: One player violently pushes another aside in a scuffle for the ball; A governing organization ignores a dip/hole in the field caused by weather; A coach pushes a player to continue play despite feeling lightheaded.  Insurance coverage dispute can also arise in a sports injury case.  Do not assume your claim is barred because you may have signed a release/waiver prior to injury, certain claims can overcome a purported waiver.
A True Sports Lawyer in Northern California
Attorney Brod is a sports fan and is experienced in a wide-range of sports-related legal matters.  A member of the Sports Lawyers Association, he has represented athletes in contract negotiations as well as in litigation.  His experience and knowledge of law and sports allows him to provide excellent service as a San Francisco sports lawyer and, more specifically an attorney for injured athletes in San Francisco and the surrounding areas.
A final message: Play often. Play hard.  Play safe.
See Related Blog Posts:
Concussions and Other Head Injuries in Youth Soccer
Young Bodies, Adult Injuries: Continuing Our Look at Safety in Youth Sports
(Image by Jarrett Campbell)