Most of the injury cases we handle at The Brod Law firm can be classified as accidents.  While the defendant's negligence or recklessness caused the incident, typically the defendant did not actually intend for anyone to get hurt, much less killed.  However, it is important to remember that California law does allow for civil claims in the case of intentional injury, such as a civil case seeking compensation for shooting injury or death.  As an Oakland intentional injury attorney serving all of Northern California, Greg Brod works to get victims compensation for a wide-range of intentionally inflicted injuries and wrongful deaths.  This commitment includes serving as a San Francisco and Oakland shooting injury lawyer.
Spate of BB Gun Shootings in San Leandro and Surrounding Region
We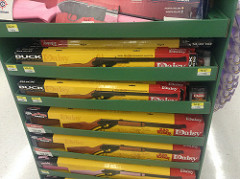 are reminded of the importance of civil claims for intentional injury as we continue to hear about the rising number of BB gun shootings in our region.  Last weekend, ABC7 reported that police were looking for suspects who used a BB gun to shoot a woman and damage a pizza shop in San Leandro.  Investigators told reporters that the shooting happened on East 14th Street and said they are looking for the driver of a Jeep Grand Cherokee seen in surveillance videos.