At the Brod Law Firm, we believe that Bay Area roads should be safe for every traveler.  As a recent news report reminds us, this includes people living with disabilities.  Whether a person is in a wheelchair or on foot, whether a person is blind or sighted, everyone should be able to navigate our streets safely.  Our Santa Rosa pedestrian accident law firm is committed to protecting all of our residents and remembering that pedestrian safety includes wheelchair safety and other forms of access for people with physical challenges.
Advocates Work for Access and Safety in Santa Rosa
Sunday's Press Democrat included an important reminder that pedestrian safety includes access for people with a range of physical abilities.  Reporters spoke to a man who is working with Santa Rosa officials to ensure the streets are safe for people with mobility, vis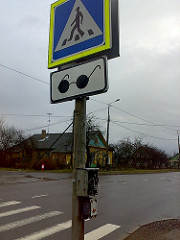 ion, and/or hearing impairments.  He pointed out that electric cars pose a special problem for people with visual challenges since they are often nearly silent so an individual who cannot see may not know a car is approaching.  Other challenges include overly steep ramps and intersections with no ramps at all that impede access for people in wheelchairs.  A lip at the base of a ramp can also trip up someone using a cane.  Even overgrown weeds can be a real challenge.