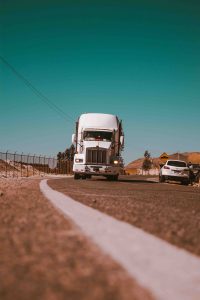 On January 1 around 3:30 pm, a delivery truck drove into a crosswalk in the Richmond District of San Francisco. The truck struck a vehicle carrying a family of five and two pedestrians. The family in the vehicle were treated at the scene for minor injuries. However, two elderly men, 66 and 79 years, were seriously injured. The 66-year-old is recovering from a broken rib and punctured lung while the 79-year-old required surgery for internal bleeding.
According to reports, the truck was driving southbound on 21st Avenue when it entered the crosswalk at Geary Boulevard. It is believed that the truck driver lost control of his vehicle. Law enforcement officials are investigating the crash, including questioning the trucker, and have not released a cause for the accident, though they do know that the trucker attempted to make an illegal turn. It has not been confirmed whether speeding, drugs, alcohol, or any other issue influenced the crash.
Common Causes of Truck Accidents
Personal vehicles, cyclists, and pedestrians all share the roadways with commercial trucks every day. While you may not see too many semi-trucks in town, there are many other types of trucks. Delivery trucks, garbage and waste collection trucks, dump trucks, moving trucks, and many others are all size-able and heavy vehicles that can be part of significant accidents if everyone is not careful. These trucks are often in accidents because of:
Speeding

Drug use, including over-the-counter and prescription drugs

Lack of familiarity with roads

Failure to check blind spots

Drowsy driving

Distracted driving

Inexperience

Lack of training and certification

Aggressive driving
Determining Fault and Liability
If you were injured in a truck accident, you should contact a San Francisco personal injury lawyer right away. An experienced attorney will look into the accident in order to determine fault and liability. If it is clear that the truck driver was all or mostly at fault for the collision, then your attorney will ascertain who is liable for compensating you for your injuries. If the truck driver is an independent business owner, then you may file an insurance claim against his or her own auto or business policy. However, if the trucker was an employee, which is common, you will need to file an insurance claim against his or her employer.
Compensation for Truck Accident Injuries
When you are injured in a truck accident that was another person's fault, you have the right to pursue compensation for your:
Medical expenses

Lost wages

Physical pain

Mental suffering

Disability

Disfigurement

Reduced earning capacity

Loss of enjoyment of life

Loss of consortium
Determining the total value of your claim can be difficult. Your attorney will explain how to calculate your economic damages, including your lost wages, reduced earning capacity, and medical costs. These are based on your records. Your non-economic injuries are not originally monetary figures and must be translated into a monetary value. Your personal injury lawyer will explain the various methods you can use to do this.
Contact a San Francisco Truck Accident Lawyer Today
After a truck accident, you will benefit from legal advice and guidance. An experienced personal injury attorney from Brod Law Firm can represent you with the insurance company and negotiate the best possible settlement. If problems arise with obtaining an insurance payout, then your lawyer can represent you in court.
Call (800) 427-7020 to schedule a free consultation today.   
(image courtesy of Orlando Leon)