At its core, the justice system is about holding people accountable for their actions.  In the personal injury/wrongful death arena, this means making at-fault drivers (and/or other wrongdoers) face their actions and the results thereof.  Hit-and-run drivers are a prime example of individuals who have committed an egregious wrong.  Our Oakland hit-and-run injury attorney works with professionals to find these offenders (notably, legal teams often locate people the police cannot find) and then uses the justice system to ensure they face their actions.  We cannot make the perpetrators of hit-and-run accidents feel remorse, but we can make them face the consequences of their actions and compensate those they hurt.
Hit-and-Run Accident Kill San Leandro Pedestrian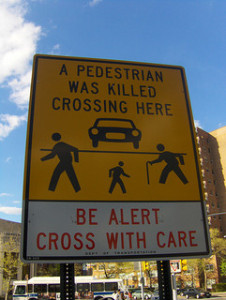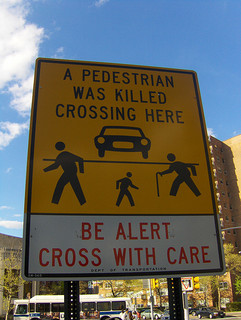 Last week, a hit-and-run driver cut short the life of 26 year old Madeline Moore of San Leandro.  As reported by the Oakland Tribune, Moore was crossing at the intersection of Hesperian Boulevard and Thornally Drive at around 9 A.M. on Monday when she was hit by a black Toyota T-100 pickup truck.  She succumbed to her injuries that afternoon.
The driver of the Toyota did not stop after hitting Moore and has not, as of the time of this writing, been identified.  A tip did, however, lead police to locate the truck itself in Hayward on the 28000 block of Thackeray Avenue.  Police are asking the driver to come forward voluntarily.  They have also requested anyone with knowledge about the driver contact 510-577-2740 or 510-577-3230 for voice calls, text "TipSLPolice" to 888777, or use 510-577-3278 to speak anonymously.
Hit-and-Run Statistics: A Growing Plague
In November 2013, USA Today published an article with a title that speaks for itself: "Fatal Hit-And-Run Crashes on Rise in U.S."  The article noted that hit-and-run deaths rose steadily in the prior years from 1,274 in 2009 to 1,393 in 2010 and again to 1,449 in 2011 according to the National Highway Traffic Safety Administration.  This increase occurred despite the fact that traffic fatalities overall trended down between 2009 and 2011, giving further credence to labeling the problem a "plague" and one of "epidemic proportions" in some regions.  In 2012, according to the California Office of Traffic Safety's statistics, there were 314 fatal and injury-causing hit-and-run collisions in Oakland and 344 in San Francisco.
Using the Law to Help Hit-and-Run Victims
If you are involved in a hit-and-run accident, you should contact the police and seek any necessary medical care immediately.  As soon as possible, you should also call Oakland car accident injury attorney Gregory Brod.  Why?  First, we can help look for the at-fault driver.  The police will investigate, but they have limited time and resources to devote to any given case.  We work with experts who can help identify the driver who caused your injuries or killed your loved one.
Second, we can defend your legal rights and help you recover compensation.  In general, hit-and-run recoveries can come from two primary sources.  If the at-fault driver is located, you will likely have a civil injury or wrongful death claim and you may be entitled to punitive damages in addition damages intended to compensate you for your losses.  If the driver is not found, you may have a claim against your own insurance company If you have uninsured motorists coverage.  In this case, your insurer's interests are in opposition to your own making it critical you obtain legal representation before agreeing to or signing anything.
There is no question about it, car crashes are scary and hit-and-run collisions can be particularly frightening.  We can help ease your fears by putting our experience and knowledge to work for you.  Call (800) 427-7020 to schedule a meeting with Attorney Brod at our hit-and-run law offices in Oakland, San Francisco, or Santa Rosa.
See Related Blog Posts:
An Injury Attorney's Role in Hit-and-Run Cases
Oakland Injury Attorney Comments on Coverage for Hit-and-Run Accidents
(Image by Joe Shlabotnik)