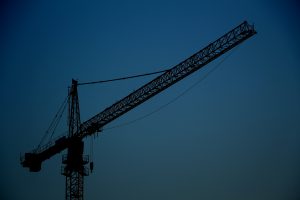 On February 22, a crane and concrete slab in a high-rise construction site in South of Market became unstable and were at a risk of falling, CBS SF Bay Area reported. Due to the significant dangers posed by the two-ton piece of concrete hanging 35 stories above the ground, the building under construction and 15 others around it were evacuated. The surrounding streets and alleys were also closed.
The issue was caused when a strut within the crane that was putting the concrete wall into position failed, which is also being referred to in the news as a partial hydraulic failure. This caused the crane, which is currently located in the center of the building where a stair well will be, to tilt and allow the concrete wall to lean outward. Authorities stated the crane was not going to fall and the evacuations were purely out of caution. If the concrete had fallen after individuals were evacuated, a worst-case-scenario only involved structural damage to a couple of buildings and the street.
Incident Leads to Health and Safety Violation
While the situation was corrected later that day and no one was hurt, the city has issued a violation notice for the construction site, ABC 7 News reported. This notice stops all construction at the building except for work that is necessary to repair and secure the crane and concrete wall. The contractor and developer for the building have 48 hours to give the city as update on its repairs.
Two of the companies working at this site have a history of safety violations at their construction sites across the country. Bovis Lend Lease, the general contractor, has had close to 40 violations from the Occupational Safety and Health Administration in the last 10 years, according NBC Bay Area's Investigative Unit. Pacific Structures, which is in charge of the concrete work at the site, has had 6 violations since 2013.
Health and Safety Violations Often Lead to Injuries and Fatalities
While the incident in SoMa may have ended without anyone being injured or killed, many other construction issues cannot say the same. Health and safety violations run rampant throughout U.S. construction sites and these issues can lead to worker and pedestrian injuries or deaths. For example, Bovis Lend Lease was cited by OSHA for violations at a building in New York City. That building caught fire, resulting in the death of two individuals, NBC Bay Area reported.
Construction Incidents Can Lead to Personal Injury and Wrongful Death Claims
When pedestrians are injured in construction accidents, like falling debris from sites, these individuals have the right to file personal injury claims against the businesses responsible for the work at the site in question. Through a personal injury lawsuit, individuals can seek to recover:
Past and future medical expenses

Lost income and reduced earning capacity

Disability

Disfigurement

Pain and suffering

Mental anguish
Many construction accidents lead to fatalities, not only injuries. When pedestrians are killed, their family members may have the right to file a wrongful death claim under California law in which they seek:
Funeral expenses

Loss of the decedent's income

Loss of decedent's benefits

Loss of decedent's household services

Loss of love, companion ship, assistance, protection, and sexual relations
Contact a San Francisco Personal Injury Lawyer for Help
If you were injured or lost a loved one in a construction accident, you should reach out to an experienced personal injury and wrongful death attorney as soon as possible. At Brod Law Firm, we are available to listen to your concerns, answer your questions, and advise you on your legal rights. For a free consultation, call us at (800) 427-7020.
(image courtesy of Katherine McCormack)