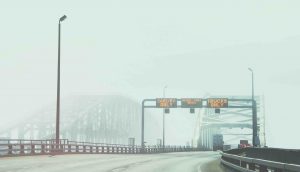 Around 5 a.m. on Saturday, December 2, Daniel Berk, 32, collided with a Bay Bridge tollbooth while driving a rented box truck. Berk was seriously injured and remains hospitalized in Oakland. The passenger of the truck and the drivers and passengers of five other vehicles were treated and released from the hospital.
The tollbooth operator, Si Si Han, 46, was killed in the crash. Han had worked as a tollbooth operator for almost a decade. She leaves behind her husband and a 10-year-old daughter.
Authorities determined that Berk was intoxicated at the time of the accident. He appears to have been driving between production jobs as the rented truck contained lighting and sound equipment.
Berk has been charged with a DUI and vehicular manslaughter, and may face civil lawsuits for the injuries and fatality he caused.
Insurance Issues in Car Accidents
When individuals are injured in collisions caused by other drivers, they have the right to pursue compensation. For example, the passenger in Berk's truck and the other vehicle occupants involved in the crash were all treated at the hospital. Even if they suffered only minor-to-moderate injuries, they will have experienced physical pain and face medical expenses beyond their insurance coverage – if they had health insurance.
In most situations, the injured drivers and passengers seek compensation through an insurance claim against the at-fault driver's policy. Sometimes this is a smooth process, but other times it can become complicated and contentious. In Berk's case, there may be an issue with auto insurance. The injured individuals will have to determine if Berk had his own auto insurance policy that would cover their damages or whether he paid for an insurance policy in relation to the rental truck. Additionally, if Berk was acting as an employee at the time of the crash, then injured parties may need to file a claim against his employer's insurance policy.
Whenever there is confusion regarding auto insurance, accident victims should speak with an experienced San Francisco personal injury lawyer. An attorney can thoroughly investigate the accident and determine whether one or more policies is liable for compensation the accident victims.
Filing a Personal Injury Claim
In situations in which car accident victims cannot make a claim against an insurance policy or the insurer denies the claim, then the injured parties may need to pursue compensation through a personal injury lawsuit. This is a more in-depth and lengthy process than an insurance claim and requires the help of a knowledgeable and experienced San Francisco personal injury attorney.
During a personal injury lawsuit, the plaintiff – the victim of the crash – must prove that the defendant – the at-fault driver – caused the crash through their carelessness, recklessness, or intentional misconduct. The plaintiff must prove that this crash then resulted in physical, psychological, and financial injuries.
If a judge or jury finds the plaintiff has established each element of a personal injury suit, then the defendant will be ordered to pay the plaintiff compensation.
Were You Hurt in a Car Accident?
If you were injured in a collision that was clearly another driver's fault, call Brod Law Firm today. Our personal injury lawyers will thoroughly review your situation and guide you through the insurance claim or legal process. Our priority will always be to obtain you the maximum compensation for your injuries.
(image courtesy of Wojtek Witkowski)