It's a topic we've touched on often in recent weeks, but it is also the news story foremost in the minds of many Californians and one our team thinks about on both a personal and professional level every day.  Watching the news is both frightening and humbling; after all, if the images are coming to us from the news rather than from outside our own windows, we are luckier than many of our neighbors.  With reports suggesting that the Valley Fire has now claimed a human life, today's post looks at the danger of wildfire injuries and wildfire deaths.  Our Northern California fire injury law firm also reminds readers that many, though certainly not all, fires are unfortunately the result of human negligence.  This truth should push all of us to be vigilant about fire safety and should serve as a reminder that those impacted by fire may have a legal recourse.
Lake County Fire Grows, Fatality Confirmed
On Monday morning, ABC30 published an update on the terrible wildfires ravaging the state.  Although details are not available, the network reports that the California Department of Forestry and Fire Protection ("Cal Fire") has confirmed the death of one person in the Valley Fire.  The confirmation of one death comes as officials say area hospitals have treated at least 27 people for fire-related health problems. Most of the injuries involved smoke inhalation and were deemed minor.  Four firefighters were treated for burns.
In our opinion, while one death is always one too many, it speaks to the hard work of firefighters and everyone involved in the response effort that human toll is not (yet) higher.  The numbers are constantly rising, but as of this writing the fast-growing Valley Fire had grown to 61,000 acres, destroyed 400 homes, and displaced more than 17,000 people.  Governor Brown declared a state of emergency declaration in Lake and Napa counties.  ABC calls the devastation "simply unbelievable," noting that neighborhoods have been left unrecognizable.
Fire Injuries & Fire Fatalities in the U.S.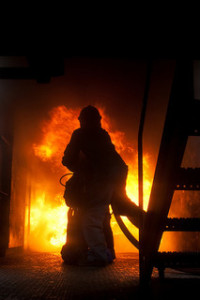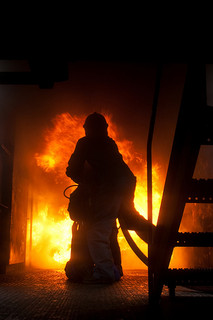 According to the National Fire Protection Association ("NFPA"), in 2013, fires claimed the lives of 3,240 civilians and 97 firefighters in the United States.  An additional 15,925 civilians and 65,880 firefighters were injured across the country in 2013.  A separate organization, the National Interagency Fire Center (a government support center for fighting wildland fires) keeps a list titled Wildland Fire Fatalities By Year which attributes 10 deaths to wildfires in 2014 and 34 deaths in 2013 (includes 19 firefighters killed in the Yarnell Hill Fire in Arizona).
Causes of Wildfires: The Enormous Role of Humans in Causing Fires
Focusing on wildfires and their causes, the National Park Service estimates that humans cause up to 90 percent of wildfires in the U.S.  Sources of human-sparked fires include unattended campfires, negligently discarded cigarettes, trash fires, and intentional arson.  The 10% of fires that are not caused by people are generally the result of lightning or lava flows.
Helping Fire Victims Recover Compensation
When a fire stems from human negligence, those impacted deserve compensation.  This is particularly true in the case of people who suffer disfiguring burns or other serious injuries stemming from the fire itself or from the smoke it creates.  Likewise, human-sparked fires claim lives leaving relatives dealing with both the economic and emotional loss.  The Brod Law Firm is proud to serve as a fire injury law firm for Lake County and other Northern California regions.  If a wildfire or other blaze caused by human negligence or wrongdoing has left you injured or caused the death of a close family member, call our office at 800-427-7020 to discuss your legal rights.
See Related Blog Posts:
When People Cause Wildfires: California Fire Injury Attorney on a Growing Threat
Water Heater Fires: A Threat on All Our Minds
(Image by Matthieu Luna)