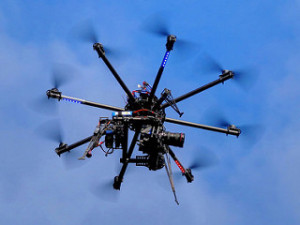 One of the most controversial tools used by the military and domestic government authorities has become the season's most in-demand gift.  Drones are becoming more powerful and more accessible, with hobbyists of all ages taking the controls.  Drones are fascinating, but drone injuries are a very real danger.  From interfering with aircraft to injuring an operator or a bystander, drone accidents happen and our Northern California drone injury lawyer is prepared to use a variety of legal theories to advocate for those injured by drones in San Francisco and the surrounding regions.
Drone Nearly Collides with CHP Helicopter Over Martinez, CA
A close call in our area last weekend highlights a potential safety threat from privately operated drones and has the California Highway Patrol ("CHP") urging operators to take care when flying the devices.  According to ABC7, on Saturday night a CHP helicopter was working with Martinez police and flying above Highway 4 when they spotted a small red light.  The light turned out to be a drone flying at nearly the same altitude as the helicopter, approximately 800 feet, despite the Federal Aviation Administration's ("FAA") recommendation that drones remain under 400 feet.  Luckily, the CHP pilots, travelling nearly 100mph, spotted the drone in time and banked allowing the drone to fly by the helicopter.  CHP officials believe they have identified the drone's operator and have turned the incident over to the FAA to determine an appropriate response.
A CHP spokesperson told ABC that a two-pound object in the sky poses a threat to its aircraft and could potentially go right through a helicopter's plexiglass windshield and incapacitate the pilot.  Speaking to drone operators and urging them to fly safely, the spokesman warns: "Don't send it out of your visual range. Don't send it out in the dark. You know, if you're going to hover it in your front yard in the dark, I couldn't care less, but what I don't want to see is that thing in my flight path."
Types of Drone Accidents  
Drone injuries and drone accidents can take many different forms.  In March, the IT-industry website TechRepublic published "12 Drone Disasters that Show Why the FAA Hates Drones."    The accidents highlighted in the article include:
A drone that crashed into a photographer's face during a store promotion, clipping off the tip of her nose and cutting her chin.
In Australia, a drone photographing a competition crashed into a triathlete resulting in a minor head wound that required stitches. The operator claimed someone stole control of the craft.
A drone nearly collided with a plane as it took off from a major airport. The governing aviation authority called it a "serious risk of collision," the highest label on its rating scale.
Multiple incidents highlighting the risk a weaponized private drone could pose, especially at crowded public events.
An incident involving a drone
caught in the talons of a hawk that became notable for the video the drone captured during the event.
We imagine many other types of drone accidents will be seen as drones become more popular.
The FAA: Rules & Recommendations
The FAA is still working on the best way to deal with drones and other unmanned aircraft systems ("UAS").  According to the agency, "Introducing UAS into the nation's airspace is challenging for both the FAA and aviation community, because the U.S. has the busiest, most complex airspace in the world. The FAA is taking an incremental approach to safe UAS integration."  Currently, people using UAS for commercial purposes must obtain FAA approval, but people flying as a hobby do not.  Still, hobbyists must follow some rules including staying a sufficient distance away from certain events like sports contests.
The FAA has also produced an "I Fly Safe" pamphlet dealing with safe drone operations.  Safety pointers include: Flying below 400 feet; Keeping the aircraft in your sight; Avoiding stadiums and other crowded areas; Avoiding airports; Always flying sober; and Staying away from emergency scenes and emergency response efforts.
Our Drone Injury Lawyer
Drone accidents can take many forms and there can be many different people/groups at fault.  Perhaps the two most common scenarios are an accident caused by a careless/inattentive operator and an accident caused by a malfunctioning device.  Respectively, these accidents might give rise to a negligence claim or a product liability injury claim.  Other legal theories might also apply depending on the precise facts involved.
As an experienced personal injury attorney, Greg Brod can help drone accident victims in Northern California recover compensation for their injuries.  His broad experience in accident law, including aviation matters, and an understanding of technology allow Attorney Brod to serve drone injury clients and advocate on their behalf.  If you or a loved one has been injured by a UAS, call our drone accident law firm in Oakland, Santa Rosa, or San Francisco to schedule a free consultation.
Stay safe and fly smart!
UPDATE: As of 12/21/15, ALL drones must be registered with the FAA or the owner may face civil and criminal penalties.  See the agency's website for more details.
See Related Blog Posts:
Aviation Accidents: Statistics & Causes
Driving Driverless Cars: Researchers Look for the Best Balance Between Humans and Technology
(Image of black-colored drone by Robert Lz; Image of white-colored drone by Michael Coghlan)