Along with people across the nation, the team at our San Francisco insurance law firm watched in disbelief as the news of a massive sinkhole in Florida hit the airwaves. When we think of sinkholes, the pictures that come to mind are often of roadways opening up, empty cars clinging to broken asphalt around a hole that looks remarkably like a Hollywood image of a meteor strike. However, the potential terror of sinkholes was made more vivid with the story of the ground suddenly opening beneath a home on an otherwise quiet weeknight and claiming the life of a Florida man. Upon hearing the story, our thoughts immediately went out to the victim and his family. As members of a legal team, we also know that the family may soon face a battle over insurance coverage for the tragedy.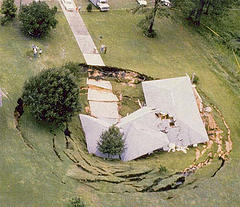 Florida Man Dies in Residential Sinkhole Tragedy
Witnesses told CNN that a deafening noise broke the quiet Thursday night in the Tampa suburb of Seffner, Florida. Jeremy Bush said he heard his brother, Jeff, scream and ran to his bedroom. Jeremy found that the entire room had been swallowed by a massive hole and, without thought for his own safety, he jumped in to try and rescue Jeff. A sheriff's deputy later pulled Jeremy from the rubble, uninjured but clearly in great distress as was captured by news cameras the next day. Four others also escaped uninjured.
On Saturday morning, Hillsborough County Administrator Mike Merrill told reporters that rescue workers had been unable to locate Jeff Bush and had determined survival was not possible. Officials later reported that they were unable to recover the thirty-seven year old victim's body from the massive sinkhole measuring 20 feet wide and over 50 feet deep. Efforts then shifted to razing the house, an effort that required caution due to the precarious nature of the structure. Workers also tried to salvage family belongings, including military awards, photo albums, and a family Bible.
San Francisco Sinkholes, Californians Know It Can Happen Here
Sinkholes occur when water flowing underground dissolves rock below the surface, eventually leading to instability and a collapse when the underlying earth can no longer support surface weight. They can develop gradually or, as in Seffner, appear suddenly. While sinkholes are particularly common in Florida, they occur across the country. Recently, as reported by an ABC affiliate, a water main break caused to a number of sinkholes in a San Francisco neighborhood. A resident told reporters that the area rests on an old creek bed and said she has long voiced concerns about the risk of subterranean water flow.
Sinkholes and Legal Liability
Sinkholes can cause major financial losses, serious injury, and even death. Individuals impacted by sinkholes may have a legal claim against a builder or municipal authority if negligent construction or other human error contributed to the collapse. Homeowners may also face a battle with their insurance provider for sinkhole coverage. Engaging legal counsel is crucial to ensuring victims obtain much needed compensation.
Greg Brod is a San Francisco victim's attorney with experience in insurance disputes and property-related accidents. He understands the legal issues that are prevalent in San Francisco sinkhole claims. Call to arrange a free consultation.
See Related Blog Posts:
Fires and Insurance Coverage Disputes
Lessons from the Storm: Nursing Homes and Disaster Planning
(Photo by Jhayne)