We want 2016 to be a healthy and safe year for all of our readers and all of our neighbors here in Northern California.  We also want to remind people that our personal injury law firm in San Francisco, Oakland, and Santa Rosa is here to help if you or a loved one is injured in 2016 due to someone else's negligence, carelessness, or wrongful acts.  In this spirit, this blog post looks at a recent drunk driving accident and reviews the difference between criminal and civil drunk driving cases in California.
Charges Filed Against Suspected Drunk Driver Following Hit-and-Run Crashes
According to CBS SF, police have arrested a 22-year-old man and charged him with suspected felony drunk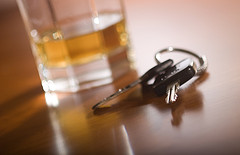 driving and hit-and-run causing injury after a series of crashes in Petaluma.  The series of incidents started around 12:30 AM Saturday when a pickup truck hit a parked vehicle on Mary Street near Petaluma Boulevard North.  A woman who had been placing items in the parked vehicle's rear seat was knocked over by the impact and suffered minor injuries.  Reportedly, the driver fled the scene and then stopped at a nearby parking lot to examine his own vehicle.  As he attempted to leave again, he backed into the store building damaging the establishment's door and window before hitting a crosswalk sign on his way out of the lot.  Officers later caught up with the man they believe was the driver and a test allegedly put his BAC at 0.13.