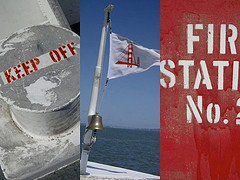 There's a cruel irony to the thought of battling a fire when surrounded by nothing but water.  Nonetheless, boating fires are a very real threat to life, health, and property.  When boat fires result from unsafe products or from the negligence of an individual or entity, our San Francisco boating injury law firm is here to help.
Two Men and One Dog Rescued After Boat Fire in Half Moon Bay
The danger of a boat fire became all too real for two skilled Bay Area boaters this week.  According to KPIX, a well-known fisherman was headed back to Half Moon Bay when he started to smell smoke.  Another passenger and the fisherman's dog were also on board.  A Venture County Fire Department official told reporters that when the passenger went to investigate, a large amount of smoke came pouring out of the vessel's engine compartment.  The captain issued a mayday call and, after donning protective gear (yes, the dog had a life jacket too), the trio jumped into the water.  Thankfully, another boater was in the area and picked them up shortly thereafter.