Most of us have, at some point, heard the loud blare of a residential smoke alarm.  Hopefully, you will never hear that sound in the face of a serious emergency (Remember: If you ever disable a smoke alarm because of a false warning, reinstall it ASAP!!).  Sadly, however, residential fires are a very real danger and it is often smoke inhalation rather than the flames that pose the greatest danger.  When dangerous fires are the result of human negligence — including shoddy construction, the failure of a landlord to provide appropriate safety equipment, a faulty consumer product, or any other negligent act that causes or exacerbates a fire – our San Francisco fire injury lawyer is here to help.
Five-Alarm Fire Strikes Mission District
As CBS SF reported, a large fire broke out in San Francisco's Mission D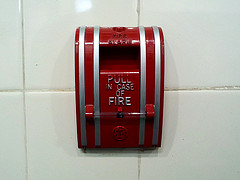 istrict last weekend.  The fire started sometime around 2:30 PM on Saturday and eventually raged to five-alarms as it spread to multiple buildings on the 3300 block of Mission Street.  By the time firefighters contained the blaze three hours later, it had burned six buildings and left 58 people displaced from their homes.  CBS reports that at least two people were treated at an area hospital for smoke inhalation and officials treated a 1-year-old child for breathing issues on the scene.  Parts of the area remained closed to traffic on Monday as fire officials continued to investigate the cause of the blaze.