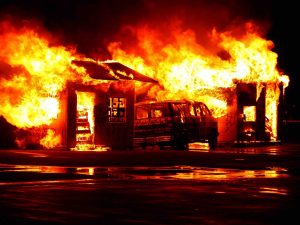 In October of 2016, a fire broke out in a warehouse in Oakland, California. The warehouse, known as Ghost Ship, had been converted into an artist collective and was illegally home to numerous people. At the time of the fire, the warehouse was hosting a concert with about 50 guests. 36 people were killed. Now, two tenants of the warehouse have been arrested and charged with crimes in relation to the fire.
The Ghost Ship Warehouse Fire
Investigators could not determine the exact cause of the fire, which began on the first floor at around 11:20 p.m., however it is speculated that it may have begun with an electrical appliance. Investigators could pinpoint numerous factors that led to the significant number of fatalities. The warehouse did not have smoke detectors or any fire suppression system, like sprinklers. There were only two stairways in the warehouse and neither led to a direct exit out of the building. One of the stairways was built from stacked wooden pallets, which meant it likely began to burn while visitors and residents were attempting to escape. Additionally, because the dwellings within the warehouse were homemade out of random materials and were not organized with straight hallways, it was difficult for visitors to navigate the warehouse and find an exit.