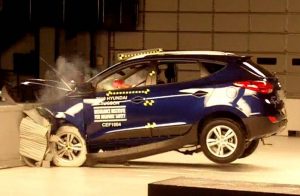 Vehicles continue to become safer to drive. The Insurance Institute for Highway Safety, Highway Loss Data Institute, IIHS HLDI, released its annual report on vehicle safety. The report ranks new vehicles on their overall safety, providing ratings that help consumers purchase vehicles. The ratings are made using a variety of data.
Crashworthiness Tests
In order to qualify for a top safety pick, a vehicle needs to get good ratings in five crashworthiness tests. The tests are used to evaluate structural design and restraints. The tests ensure good structure, which includes a strong compartment for occupants, crumple zones to absorb impact, side structure to protect the compartment, and a roof that will survive a rollover accident. Seat belts and airbags are also tested. These types of tests are performed:
Frontal Crash

Side Crash

Roof Strength

Head Restraints and Seats

Front Crash Prevention
Frontal crashes are the most frequent type of accident that results in fatalities. Four types of frontal crash tests are done to determine how well a vehicle responds to impacts at various speeds.
Top Safety Picks
This year, 38 vehicles qualify for top safety picks. Vehicles were chosen in categories including mini cars, small cars, midsize cars, midsize luxury cars, large cars, large luxury cars, small SUVs, midsize SUVs, midsize luxury SUVs, large SUVs, Minivans, and large pickups. Some of the most popular safety picks this year include Toyota and Honda brands. Of the top safety choices, some of them were rated that way only when they included specific safety equipment, such as optional front crash prevention.
Safety Features
Vehicles with extra or optional safety features usually fare better to protect occupants than those without these selections. For consumers, it is usually advisable to purchase a vehicle with as many of the optional safety features as you can afford. Many of these options are just starting to become standard on some cars. For example, automatic emergency braking is optional on many vehicles, but will likely become more common as standard equipment in the future.
Headlights are another concern that can contribute to accidents. In fact, headlight studies are done separately, and improvements will likely be forthcoming within the next five years. Automated driving features are also becoming more popular. Although completely autonomous vehicles are still some years away, some of the technology used in them is now being included in new vehicle models.
Accidents Still Occur
While our vehicles are continuing to get safer, accidents keep occurring. There are more cars on the roads than ever before, and this can be one of the reasons that crashes are still so common. Regardless of the safety rating of a vehicle, a serious accident can still cause severe injuries or deaths. If you or a loved one were the victim of an accident with injuries, you may be entitled to compensation. Contact Brod Law Firm to discuss your case with a free consultation. Call us today at 800-427-7020.
(image courtesy of Brady Holt)