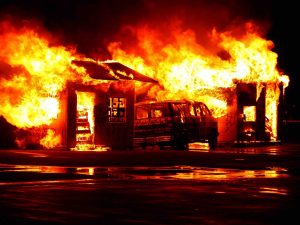 A construction site on San Pablo Avenue between Oakland and Emeryville caught fire on Saturday, May 13. The fire broke out in the mixed-use apartment complex around 5 a.m. and took about 100 hours to control. Both the Oakland Fire Department and the Alameda County Fire Department sent engines and firefighters. The debris was still smoldering and firefighters remained on site through Sunday. The fire led to the evacuation of at least 35 residents from 15 neighboring units as officials were worried the partially burned crane might collapse. Some nearby homes were severely damaged.
This is the second time the construction site has gone up in flames. It caught fire last July, and neighbors and the building developers suspect arson. The previous fire started at around 2:45 a.m. and also spread to nearby homes and businesses.
The development was intended to be 105 one- to four-bedroom units and 21,000 square feet of retail space known as the Intersection. However, it remains to be seen when the Intersection will come to fruition. The building was supposed to be finished this October. However, this has set it back at least nine months.