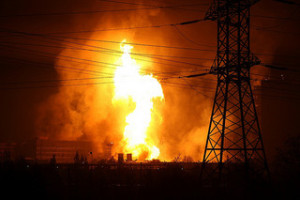 This September will mark the five-year anniversary of the massive San Bruno pipeline accident that killed eight and left dozens injured.  Sadly, pipeline explosions remain a very real and very present threat as became all-too-clear to another California community on Friday.  As a California pipeline explosion lawyer, Attorney Greg Brod stands ready to help when pipeline explosions cause injury and/or death.  Our legal team strongly believes that holding companies accountable for pipeline accidents not only compensates the injured/grieving but also helps prevent future tragedies.
Pipeline Explosion Rocks Fresno
It was just before 2:30 P.M. on Friday.  At the Fresno County Peace Officers' Range near Highway 99, deputies, a prison work crew, and others were hard at work.  Suddenly, as reported by The San Francisco Chronicle (discussion based on version revised at 9:03 A.M. Saturday) the day turned from routine to unforgettable as an explosion rang out.  Flames sprouted to the treetops, rising more than 100 feet in the air.  The explosion and the intense heat it generated left at least 11 people injured and requiring hospital aid, including four in critical condition and two in serious condition.