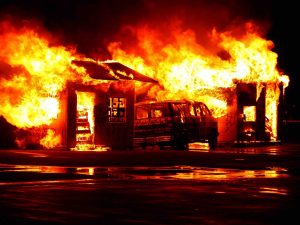 Kressa Shepherd, 17, passed away at the end of October due to burns she sustained from the wildfires that swept into Mendocino County, California. Kressa and both of her parents were badly injured by the wildfire, with burns covering a great deal of their bodies. Kressa suffered burns over more than 60% of her body. Her parents, Sara, 40, and Jon, 44, remain hospitalized. They have gone through several surgeries and will require a great deal more medical care in the months to come. Her brother was killed in the wildfire. With Kressa's passing, the California wildfires in October have taken 43 lives.
Determining Responsibility for the California Wildfires
Responsibility for the California wildfires has yet to be determined. However, major utility company PG&E is under investigation by California's Public Utilities Commission (PUC) for the blazes that devastated large portions of the state, including a great deal of the famed Wine Country. PUC is looking into whether PG&E's maintenance, or lack thereof, of its equipment in Sonoma and Napa counties caused or played a role in the fires. Regulators are particularly interested in whether a lack of vegetation-related maintenance was an issue, such as not cutting back trees, bushes, and other plants.
PG&E is under investigation due to reports of downed wires and blown transformers occurring at the same time numerous fires began. However, while these reports have led to the investigation, there is not conclusive evidence yet as to why all of the individual wildfires ignited and who is liable for the damage they caused.  
The utility company has been ordered to preserve all of its equipment and internal communications related to the disaster. Preservation of evidence is a common legal tool used to ensure a potentially liable party does not destroy physical or electronic evidence that could indicate their or another party's responsibility.
Personal Injury and Wrongful Death Claims After a Wildfire
If you or a loved one were burned or otherwise injured due to a wildfire, or if you lost a parent, spouse, or child in the fires, you should speak with an experienced San Francisco personal injury lawyer from Brod Law Firm today. If information in the future points to one particularly party being responsible for the wildfires, that party may be liable for compensating you for your injuries or loss.
If you suffered burns or other injuries in a fire that was caused by another party's negligence, you may seek compensation for your:
Past and future medical care

Lost wages

Disfigurement

Disability

Reduction in your future earning capacity

Physical pain

Emotional suffering

Loss of enjoyment of life
If you lost a close relative, you and your other family members may also have the right to file a legal claim. Through a wrongful death suit, you can pursue compensation for:
Medical expenses

Funeral and burial expenses

Loss of the decedent's wages

Loss of decedent's benefits, like health insurance

Loss of decedent's household services

Loss of love, companionship, and society

Loss of sexual relations
Contact Brod Law Firm for Help Today
Dealing with the aftermath of a wildfire can be overwhelming. If you suffered injuries, or lost a loved one while remaining physically unscathed, it can be difficult to focus your attention on healing while also managing the insurance claim process for the damage to or total loss of your home and belongings. You are likely facing a dire situation and wondering how you will manage today while paying to rebuild in the future.
At Brod Law Firm, we understand how devastating this situation is and we want to help. Attorney Greg Brod can help you through the insurance claim process, fighting for you to receive the maximum payout possible so that you can find temporary housing, continue to pay your mortgage, pay your property taxes, and rebuild your home as soon as possible.
Greg Brod also has years of experience handling complex personal injury and wrongful death claims. If you were injured in the fires or lost a loved one, talk with him as soon as possible about your legal rights and options.
Call (800) 427-7020 to schedule an initial consultation.
(image courtesy of Dawn Armfield)