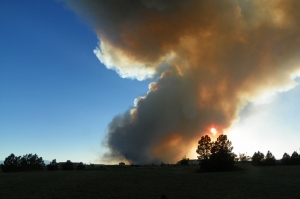 The smoke billowing from a fire Sunday at a scrap metal recycling plant in Redwood City was so big that a health advisory was issued urging residents of three counties to shelter in place. But while the blaze has now been brought under control and authorities have canceled the health advisory, toxic tort attorney Gregory J. Brod suspects that those who live in the zone impacted by the conflagration's fallout may very well have reason to be concerned about their health.
Foul Air From Fire Detected Through Much of Bay Area
According to the San Francisco Chronicle, the fire began in a pile of scrap metal at the Sims Metal Management yard, which is close to the Port of Redwood City, at approximately 1 p.m. Sunday. At least 50 firefighters were called upon to subdue the blaze until it was declared officially extinguished just after 7 a.m. Monday. In the interim, though, due to the voluminous plumes of smoke and foul air fire officials advised residents of San Mateo, Santa Clara and Alameda counties to remain indoors overnight with their windows shut. The smoke was so bad that people from as far away as San Francisco and Oakland reported smelling it. Even though some residents of the area still reported lingering smoke and bad air quality on Monday, the shelter-in-place precaution has been deemed to be no longer necessary.
To put the fallout from the blaze in a more disturbingly comparative context, air quality officials recorded the release into the air of as much as 114 micrograms of particulate matter per cubic meter during the fire; the federal standard for unhealthy air is a maximum of 35 micrograms of particulate matter per cubic meter.
Numerous Complaints Filed Over Malodorous Smoke
Not surprisingly, the Bay Area Air Quality Management District has already received 30 complaints Monday stemming from the fire – even though the blaze has been contained – according to KTVU. As one would expect, people with respiratory and other health problems would be among those most severely impacted by the noxious smoke.
Officials are conducting an investigation into the cause of the fire, and Sims could be facing fines of up to $10,000 per violation, per day. It's worth noting that the company has been in trouble before over a fire, as in 2007 Sims was slapped with a $20,000 fine for a blaze at its Redwood City plant, and the firm has had fires at facilities in Hayward and San Jose. In addition, the federal Environmental Protection Agency has investigated the company for polluting San Francisco Bay.
Continue Reading ›