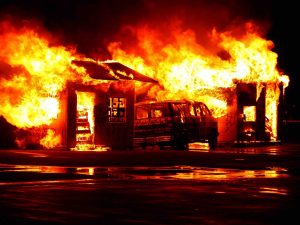 Kressa Shepherd, 17, passed away at the end of October due to burns she sustained from the wildfires that swept into Mendocino County, California. Kressa and both of her parents were badly injured by the wildfire, with burns covering a great deal of their bodies. Kressa suffered burns over more than 60% of her body. Her parents, Sara, 40, and Jon, 44, remain hospitalized. They have gone through several surgeries and will require a great deal more medical care in the months to come. Her brother was killed in the wildfire. With Kressa's passing, the California wildfires in October have taken 43 lives.
Determining Responsibility for the California Wildfires
Responsibility for the California wildfires has yet to be determined. However, major utility company PG&E is under investigation by California's Public Utilities Commission (PUC) for the blazes that devastated large portions of the state, including a great deal of the famed Wine Country. PUC is looking into whether PG&E's maintenance, or lack thereof, of its equipment in Sonoma and Napa counties caused or played a role in the fires. Regulators are particularly interested in whether a lack of vegetation-related maintenance was an issue, such as not cutting back trees, bushes, and other plants.